Perinatal mental health gets virtual reality treatment in ground-breaking training programme
31 March 2023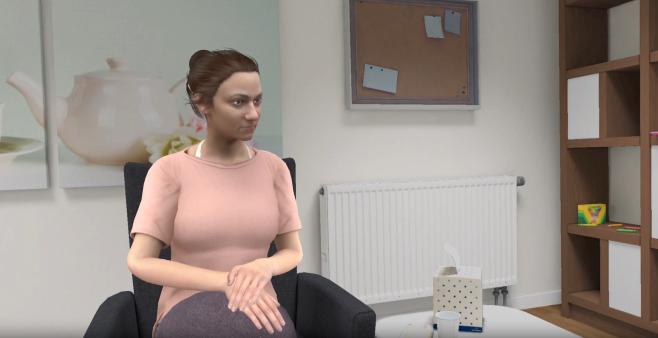 England has become the first country in the world to launch clinical training in perinatal mental health using extended reality (XR) technology.
Perinatal mental health conditions affect between 10 and 20% of people giving birth in the UK. While these problems are often mild and last for a short period, some can present as severe mental illness and without the right immediate support and care, can pose a high risk to parents and their babies.
Treatment for perinatal mental health conditions relies on healthcare professionals being able to engage and communicate effectively with patients to determine the severity of their condition and make appropriate interventions.
However, there are often limited opportunities for learners to practice these skills in a safe learning environment where they can practice and reflect on their experiences.
A  ground-breaking patient avatar has been developed by Health Education England in partnership with Fracture Reality and allows healthcare learners to expand their skills interacting with people with perinatal mental health problems through a series of instructor-driven simulations.
Using a headset, learners interact with the avatar, called Stacey, a virtual patient who is directed by an instructor and run as a simulation on Fracture Reality's JoinXR platform.
The technology can be used in augmented reality where learners are able to practice in their own clinical setting as well as virtual reality that offers students the chance to experience interacting with Stacey in her own home or other clinical settings.
The project provides learners with an immersive simulated experience that allows them to have realistic and natural conversations with Stacey, asking her about her symptoms and making plans to get her the right support. These scenarios represent the types of real-life conversations health professionals may have with perinatal mental health patients – but in Stacey's case, she is able to present to anyone who meets her in a standardised approach that enables the learner to reflect and debrief.
It has been designed to allow students to practice their skills in a safe environment until they are able to take the skills they have learnt into a real-life clinical setting.
The Centre for Immersive Technologies at the University of Leeds have evaluated the training experience.
Over 100 participants, ranging from GP and mental health nurse trainees, as well as students training to become doctors or aspiring to be clinical psychologists, have taken part.
The study has shown that this new immersive method of training is highly usable and useful for learners and educators. Some highlights include participants showing significant improvements in cognitive and emotional understanding after undertaking the simulation.
GPs in training reported a reduction in anxiety surrounding perinatal mental health consultations. Mental health nursing students had increased motivation and felt more prepared to pursue a career specialising in perinatal care.
Across all participants almost four out of five (79%) learners said they preferred this simulation training over traditional approaches.
Other universities will now be invited to trial the technology with their own students.
The project has been supported by HEE's Technology Enhanced Learning team which has managed the relationships between subject matter experts and suppliers, and will enable access for NHS organisations to the XR technology required to deliver the training. 
Rebecca Burgess-Dawson, National Clinical Lead for Mental Health at Health Education England, said: "Stacey provides students and learners with a wealth of scenarios that they may encounter while they are working in a clinical setting, all in a natural and realistic way.
"The potential impact that she has on perinatal mental health training is enormous and she will have a real benefit for learners in gaining the practice and skills they need for future patients they treat."
Dr Faisal Mushtaq, Director of the Centre for Immersive Technologies, said: "The enormous potential for XR to accelerate learning has been clear for some time. But thus far, most examples in healthcare have been limited to areas involving 'technical skills'.
"For example, we, and others, have shown how VR can be used to learn to perform surgical procedures.
"This project is significant because it demonstrates how these technologies can help people deal with difficult emotionally challenging conversations that can arise in mental health consultations. This is a big step forward for using XR to support learning and skill acquisition."
Mark Knowles-Lee, Chief Executive of Facture Reality, said: "We're excited to see the latest technology realised in such a meaningful way with our digital patients like Stacey.
"It's a great privilege to be at the centre of this multidisciplinary team, coalescing cutting-edge design and development with world-class expertise in healthcare and training.
"We're proud to be breaking new ground, using our JoinXR platform and paving the way for further pedagogical innovation that keeps pace with the rapid technological advancements on the near-horizon."
Notes to editors  
Perinatal mental health
Over recent years, the NHS has directed significant resources to ensure that all people in England who need it have access to specialist perinatal mental health services, whether that be for treatment or advice, in a hospital or at home. 
Health Education England's role has been to develop both the existing workforce in perinatal mental health, but also to rapidly expand capacity and supply, ensuring that new and existing staff have the skills, knowledge and abilities to intervene with parents and their families. 
In mental healthcare, the use of simulation has proved more complicated, as the 'art rather than science' of humanistic interactions has been more difficult to replicate. However, with advancement in extended reality technology this is becoming more accessible. Significantly, this accessibility is due to the development of higher fidelity avatars run on JoinXR coupled with natural language conversations designed  in detail by Fracture Reality with subject matter experts affiliated with HEE.
Health Education England have identified that creating avatars as patients in the perinatal period, with their infants, families, medical records and histories all intact, offers a unique opportunity for learners to interact as if on clinical placements; from wherever they are in a safe learning environment supported by their mentors.    
XR clinical placement project  
To support this commitment, HEE partnered with Fracture Reality to develop an extended reality training concept, to be run on their collaborative platform JoinXR. The training was to be specifically designed for pre-registration mental health nurses to gain experience in perinatal mental health. 
It is the first time that extended reality technology has been used to train clinicians using a digital avatar and provides a safe training environment that will increase clinical learning opportunities. 
HEE launched a XR pilot in 2022 with doctors training to become GPs and pre-registration mental health nurses to test and evaluate this technology and the potential for healthcare training.  
In January 2022, HEE and Fracture Reality were nominated for a prestigious SXSW (South by South-West) Innovation Award for their work on this extended reality training concept for GPs in training and student nurses. 
Technological element of project 
The training simulations have been built in and delivered via Fracture Reality's JoinXR platform for use on the following devices.  
Microsoft Hololens2 (MR)  
HTC Focus 3 (VR)  
Meta Quest 2 & Pro (VR)  
Windows 10 (Screen)  
The simulations each consist of a number of activities, controlled by an instructor, where learners (doctors training to become GPs and pre-registration MH nurses) sit and talk with realistic digital patient avatars in a fully 'natural language' style. There are 3 Mental Health Nursing XR clinical experiences and 3 Primary Care XR clinical experiences. Between them, these experiences feature 4 fully interactive patient avatars.   
These simulations represent a step forward in human, digital interaction that exemplifies one of the best use-cases for XR: education and training simulation.
The patient avatars are available in both Mixed Reality via the Hololens2 and in Virtual reality.