Blended Learning - Midwifery 
Our ambitious plans to develop a blended learning approach to health and care education now includes both a bachelor's degree and MSc in midwifery, designed to boost the workforce and open up the midwifery professions to more people.
While in the UK there is major shortage of qualified nurses, the challenge for the midwifery profession is different. There are areas in England where the supply of qualified midwives is lower than in others and, for this programme, an emphasis has been to close those gaps and improve overall, national service provision.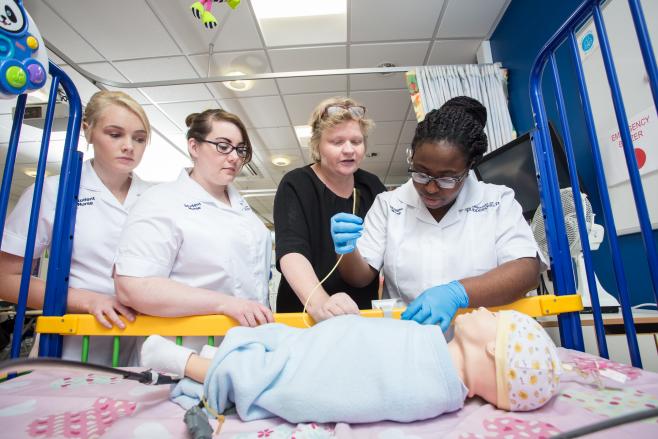 The focus is on access-to-learning for people who have the skills and values to be excellent midwives, and who will benefit from a more flexible way to learn; perhaps because they have caring responsibilities or live in a remote area of the country.
Universities offering the degree across England will be:
In a change to tradition, students will split their time on practical placement while using a range of technologies, including Augmented Reality, Virtual Reality, Simulation, avatars, gaming and Virtual Learning Environments (VLE) student midwives off campus.
The level of training is of the same high quality that any health professional student receives on a similar degree course, with the added advantage of eventually starting their career armed with strong digital capabilities.
Each university will aim to provide practical experience opportunities in locations the student finds convenient to them, while all other aspects of their training will be delivered using remote, digital technologies.  So the location of the university is immaterial to those choosing a course. Trainee midwives can choose any university offering the blended learning degree, regardless of where it is the country and focus more on where they may want to get their practical experience.
All the universities delivering the blended learning midwifery degree have formal arrangements with various clinical-practice providers across the country.  Therefore, there may be some flexibility with placements to fit with your needs.
You may choose a university to study with that is not near to you but which can offer practical experience placements that suit you better. 
The four universities delivering the midwifery programme will provide placements across the country as follows, and potential students can choose their university by where they want to carryout their placement rather than where the campus is. 
More detailed information will be provided as the programme develops.
Birmingham City University - will provide placements the Midlands
Leeds University School of Healthcare - will provide placements in the North East and Yorkshire
The University of the West of England - will provide placements in the South West
Worcester University - will provide placements in the East of England
Using a range of technologies; including Augmented Reality, Virtual Reality, Simulation, Avatars, gaming and Virtual Learning Environments (VLE) students will get easy access to new and emerging technologies giving them, and their future employing trusts, stronger digital capabilities. Students will still get important practice experience, spending up to 50 percent of their training time in practice settings already agreed with health and care providers across England.
All universities commissioned for blended learning nursing and midwifery programmes have stipulations to ensure that all learners;
have access to the right technology- through various funding options etc.
have access to the internet, through facilities arranged by the Universities or are able to access their programme of learning offline.
have received a baseline of their digital literacy skills with planned interventions to address any gaps prior to enrolling on the course and throughout the duration of their training. 
Professor Jacqueline Dunkley-Bent, Chief Midwifery Officer OBE said: 
This is an exciting time for midwifery education. Blended learning is a significantly different way to train and upskill people to become midwives that we will give future students a chance to study in a more flexible and accessible way, while supporting the growth of a digitally ready, expert and professional NHS 21st century workforce."
More information