Addressing Health Inequalities: Distribution of Medical Specialty Training Programme
Contents
Health Education England (HEE) and NHS England are working collaboratively to review the distribution of medical specialty training posts across the country. 
Update: Distribution of Specialty Training: Postgraduate Doctors in Training Webinar – 24 October and 6 November
The Post Graduate Doctor's in Training Webinar scheduled for the 21 September at 18:00 has been cancelled. Notification has now been given for proposed industrial action by Junior Doctors and due to our organisational policy, engagement events must be suspended.
Please see below details of the rescheduled events and registration information. In the event that further industrial action is announced, the webinars will be postponed until November 2023.
The NHS England (Workforce Training and Education) Distribution Programme Team would like to invite postgraduate doctors in training to attend an upcoming webinar on the distribution of specialty training posts in England.
The one-hour session will outline how the Long-Term Workforce Plan will shape the distribution of Specialty Training posts going forward,  the need to continue equitable long term workforce planning and the importance of achieving healthcare equity and decreasing health inequalities across the country.
The webinar will cover programme updates, including progress on Phase A specialties and next steps for the programme following the publication of the Long-Term Workforce Plan. We will also update on themes gathered from the recent trainee focus groups, the recommendations made and how we have started to progress this work. There will then be an opportunity for trainees to pose questions to our panel.
We would really value your participation in the session.
Sessions will be held via MS Teams. Register for one of the events using the links below. You will receive a joining link one week prior to the event.
https://forms.office.com/e/iwYbkKFhkx (24 October 18:00-19:00)
https://forms.office.com/e/uvdTfnBYbV (6 November 18:00-19:00)
Addressing Health Inequalities: Distribution of Medical Specialty Training Programme
This programme is about addressing health inequalities by reviewing and aligning specialty training placements to the areas of greatest need across England. The aim of this work is to ensure there is a more equitable distribution of training places and therefore more fairly distributed medical workforces across the country.
Across England the location of medical specialty training posts has often been based on historic arrangements and is not now reflective of current or future patient need. Remote, rural and coastal areas often do not have a fair distribution of training places.
In his 2021 annual report, the CMO Chris Whitty highlighted the inequality in healthcare outcomes for people in coastal communities and recommended to maintain focus on the current and proposed future medical education reforms: 
HEE is planning an ambitious set of reforms to address these concerns. Their approach to undergraduate reform, along with the review of the distribution of post-graduate medical trainees in coastal areas, will be a step towards reducing the disparities in coastal communities. 

Chief Medical Officer's (CMO) Annual Report 2021: Health in Coastal Communities
This work will support patients and the wider NHS by ensuring that we have the appropriate number of doctors in the places where they are needed. It will also support trainees by offering more training places in areas where disease prevalence (linked to given specialty) is high, therefore offering more exposure and more training opportunities.  
Context
At present we are going through a period of growth where we have already seen an additional 1,500 undergraduates begin their careers at medical school. 
The Distribution of Specialty Training Programme has been set up to explore and review the current distribution of funding for training places, as per the Facing the Facts, Shaping the Future report in 2017.
This programme was endorsed by the HEE Board in September 2020 as realisation of the aims of the NHS Long Term Plan (LTP) and People Plan. ​ 
Specialty groups were then established in 2021 to consider pace of change, curriculum and other specialty specific factors. ​​By developing and utilising a more equitable model for the funding of these HEE funded training places, we can help support a more equitable distribution of the wider healthcare workforce and take a big step towards addressing health inequalities. We will work to ensure that training places continue to be of an appropriately high quality so that our doctors have the education and training they need to provide high quality patient care.   
This programme has also been included within the Department of Health and Social Care (DHSC) mandate to HEE and the HEE business plan for 2022/23.
It is important to notice that our approach explores funding and training places.  
Trainees will not be moved as part of this programme. Only once the post becomes vacant (such as when someone completes training), will the post be moved. It is recognised that no area across England is considered 'over doctored', this programme is about ensuring the resource and workforce supply we currently have is distributed equitably:
 Funding for NHS services in England is based on the population's proportionate healthcare needs and is affected by factors such as deprivation, rurality and the fixed and irreducible costs of providing healthcare. Worsening health disparities are experienced across the country and access to healthcare is a significant factor.  [Ref Hewitt Review (2023)]
In the past, this methodology was not applied to the funding of doctors in training which has meant that medical training pathways are not aligned to changing population need.
Doctors spend a long time in training, during which they are a crucial component of the medical workforce that sees and treats patients, so where they train is just as important as where they ultimately end up practising.
Doctors settle close to where they train to practice in the long term so aligning the investment in the training programmes is important to equip doctors with the requisite skills and capabilities that their local populations need to have high quality sustainable healthcare, now and in the future.
Re-patterning this investment needs to happen over a number years across all of the medical specialties (there are 45,000 doctors training across over 65 different specialties) alongside and in partnership with any additional permanent investments to the medical workforce.
Discussion across NHS England between the programme and key stakeholders, including local providers is ongoing to ensure that during this process, the quality and safety of healthcare and of education is maintained regardless of the location across the country. This includes a process for providers of highly specialised services.
This programme is part of a broader schedule of activity to align workforce development across all professions to the areas that need it.
Programme Timeline
This work applies to HEE funded posts in England only. We have initially looked at three specialties (Cardiology, O&G and Haematology), this is a long term programme with post movement commencing from Autumn 2022 and will take place over the next 10-15 years.   
For the next phase, we will be reviewing the distribution of further specialties. Find out more about the phases here.
These specialties have been chosen following a polling exercise with each HEE local office, and factoring in additional factors such as ongoing curriculum changes, specialty sequencing and trying to balance movement across the country. Comments were also sought from key groups such as NHS England, Regional Medical Directors, HEE Deans, Implementation Board etc.  
Contact
Updates will be provided as this work progresses. If you have any questions in the meantime please get in touch or contact your local HEE office.
Related content 
Take a listen to episodes one and three of our Health Inequalities podcast for further related information.
Episode one: Socially accountable workforce transformation in rural and coastal communities
Episode three: Where health care learners train is important, and why!
Where people train is really important to the distribution of the workforce of the future. Around 80% of doctors completing their specialty training and gaining their Certificate of Completion of Training (CCT) settle within 50 miles of the area where they trained. 
There is a clear correlation between the number of training posts in an area and the health outcomes experienced by patients in that area. In principle, the more trainees (that is doctors) in an area, the better the health outcomes for the local population. Therefore, the location of these training posts can have a great impact on the future workforce supply and play a part in addressing health inequalities in different geographies across England. 
By moving the funding to historically medically under-represented geographies then the trend could change following this evidence. ​ 
It also helps promote the movement of trainees to rural, remote and coastal geographies. Services in these geographies are often dominated by locum and agency staff, which is expensive and sometimes results in a lack of continuity of patient care. Redistributing training posts should provide long-term, sustainable and cost-effective healthcare for the local population as doctors in training form a vital component of the junior doctor (middle grade) workforce, directly providing care to patients as an important skilled medical resource for the NHS.  
Addressing health inequalities is the cornerstone of this programme:​ 
Patient health: this programme is focused on fairness and addressing the health inequalities exacerbated by the imbalance of geographies and medical specialties compared to population health need. As specialty training is lengthy (some specialties have 5-10 years training after completion of an undergraduate degree before achieving consultant level) it is important we better align our funding and resulting workforce pipeline to where it is most needed across England.  
Patient outcomes: there is currently varying health outcomes across England and taking these steps to readdress the distribution of doctors in training will help decrease unwanted variation in outcomes for patients.​ 
Service sustainability: services in some geographies are dominated by locum and agency staff which is expensive and sometimes results in a lack of continuity of patient care. Redistributing training posts should provide long-term, sustainable and cost-effective healthcare for the local population. ​ 
Remote and rural geographies: this distribution programme gives the unique opportunity to ensure that training posts are adequately distributed to remote, rural and coastal communities which have historically been under-represented. These areas also face recruitment issues and this programme may play a part in addressing that. Local HEE offices will consult to ensure the fairest distribution of training posts within such geographies.​ This programme is also working to ensure that any distribution supports promotion of training in rural, remote and coastal communities. Further information can be found on our remote and rural page. 
Over the last 30 years, the NHS has developed sophisticated modelling techniques to guide the allocation of resources against current need. The current model takes into account over 150 separate factors to determine population weighted healthcare need.    
This is combined with HEE's demand forecasting model that utilises Hospital Episode Statistics alongside Office for National Statistics population projections to understand growth in demand for key hospital services in the future, and gives weighting based on regional deprivation.   
This provides a robust method for understanding the distribution of future healthcare demand on the medical workforce. The model provides a reliable and transparent methodology on which to base the distribution of trainee posts across regions which can be revisited if changes occur.  
Regions receiving posts will only be able to accept these placements if they can meet training quality standards and have sufficient training capacity.  
Should HEE receive any additional funding to expand training post numbers, the programme will adapt to factor in any of these.  
Please refer to the FAQ document below for further information on modelling.
This tool is designed to help start the discussions and work out what you are trying to achieve before you start exploring workforce transformation.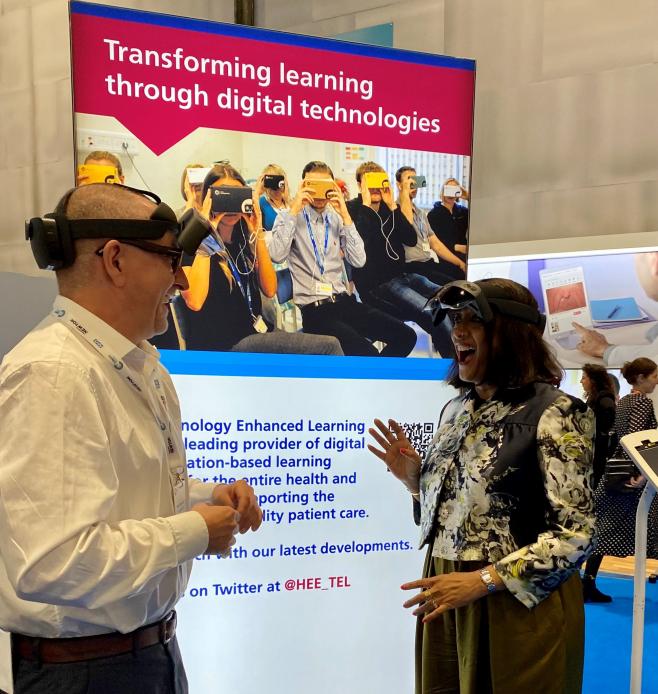 Find out more about this programme here.
Read More