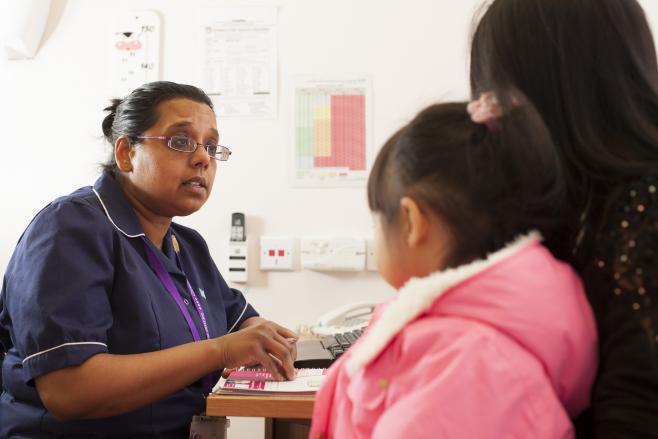 In March, the first 29 vanguard sites were chosen. There were three vanguard types – integrated primary and acute care systems; enhanced health in care homes; and,multispecialty community provider vanguards. In July, eight urgent and emergency vanguards were announced. Then, in September a further 13 vanguards were announced – known as acute care collaborations, they aim to link local hospitals together to improve their clinical and financial viability.
Here' s some examples of where we are playing our role in development new care models across the country.
In the North West we have invested in a range of community-based activities that underpin the aims of the Forward View. These include providing key skills training for health staff to assess mental health wellbeing across the populations living in Stockport, Flyde Coast and across Cheshire. This includes educating community, primary and secondary care-based staff on how people in the voluntary sector can contribute to patient care. Tangible actions being taken to deliver the aims of this Vanguard include training to allow greater integration and shared skills across professions, for example, enabling a physio to undertake Dementia assessments and developing a self-care training product for community and primary care based healthcare staff.
In the East of England we are planning a number of key workforce transformation areas in support of the East and North Herts CCG – in a Vanguard focussed on care homes. This involves enhancing the competencies of care home staff; new 'support' roles to include clinical and non-clinical apprenticeships in support of professionals; assistant practitioners to take tasks from traditional professional roles, and community-based geriatricians in locality teams. Support roles spanning health and social care are also being explored – to work across both sectors to follow the patient pathway as opposed to organisational boundaries.
In the Midlands we are working with Lakeside, a multispecialty community provider covering Northamptonshire, helping them to develop their own bespoke advertisement campaign to recruit GP registrars in the region.
Across London we are supporting a redesign of the workforce in partnership with the Vanguards to includes upskilling primary care nursing across the LETB to develop new and higher order competencies; development and piloting of blended role Emergency Medicine fellowship programme to support the aspirations and workforce recruitment requirements for the Urgent and Emergency Care Vanguard and piloting community nurse 'super-hubs' as a strategy for encouraging closer working and learning between primary and community-based nursing teams.