International Paramedics Programme

An opportunity for overseas Paramedics to work, earn, learn and live
in England as part of the National Health Service
Health Education England (HEE), part of the UK National Health Service (NHS), is proud to launch the newly formed International Paramedics Programme (IPP). This programme offers Newly Qualified Paramedics (NQP), who have studied at a Paramedicine Board of Australia approved programme, the remarkable opportunity to live in England and work as a Paramedic at one of our NHS Ambulance Service Trusts.
The NHS has always benefitted from an internationally recruited workforce, and this includes the increasing numbers of Paramedics from Australasia who have chosen to join us in recent years. Working within the NHS provides a great opportunity to consolidate your undergraduate education, whilst developing your core Paramedic skills in a world-renowned health care system. We will support you throughout this process from the initial application stage, during your relocation and transition to UK life, and throughout the time you are employed by the NHS.  We have created a programme based on our comprehensive experience of recruiting thousands of health care professionals from overseas. This will ensure that your journey is as seamless and as stress free as possible throughout your application process and, should you be successful, your relocation to England.
To join the Programme you will need:
to be in final year of a Paramedicine Board of Australia approved programme and be on target to complete your course before the end of 2021
hold an English Language qualification (IELTS), if English is not your first language
have a willingness to relocate to England and join the NHS on an initial three year contract from mid-2022 onwards
have not been previously refused a UK Visa or told you are ineligible to receive one
In return, we will offer you:
a three -year contract of employment (subject to securing a UK Visa) with an NHS Ambulance Service Trust as a Paramedic, including a competitive starting salary, 27 days per year paid leave and access to the NHS Pension scheme
access to free universal healthcare provided by the NHS
a free flight to the UK, visa costs and the provision of accommodation at no cost to you, for the first three months of your time in the UK
a structured induction course that will cover your C1 driving test, advanced driver training and a tailored training programme that will bring you up to speed you with the local clinical procedures and protocols of the respective NHS Trust
a refund of the cost of your registration with the Health Care Professions Council (HCPC) - the governing body of UK Paramedics, once you arrive in the UK
enrolment onto a comprehensive two year NQP programme which ensures a structured consolidation of your education, alongside continued development/training opportunities and ongoing support to ensure your HCPC registration will be maintained throughout your employment
the opportunity to experience a new and exciting culture that offers the ability to travel throughout the UK and Europe
ongoing pastoral support for the duration of your time within the NHS
What areas of England does the Programme cover?
We are recruiting for Paramedics to come and join the NHS working in one of the following three Ambulance Services:
North West Ambulance Service
Hello from Team NWAS. We deliver emergency services across the whole of the North West of England, from the rural countryside of Cumbria to the quaint towns of Cheshire, with sunny seaside, bustling suburbs and the vibrant cities of Manchester and Liverpool in between.  Our workforce is made up of more than 6,000 amazing people from all over the UK and many from further afield too, and we're looking forward to you joining our team. If you'd like to know more about us, click on the links below to view our website and some videos that give a glimpse of what life is like at North West Ambulance Service (NWAS).
The North West – the best place to live and work
Videos:
South Central Ambulance Service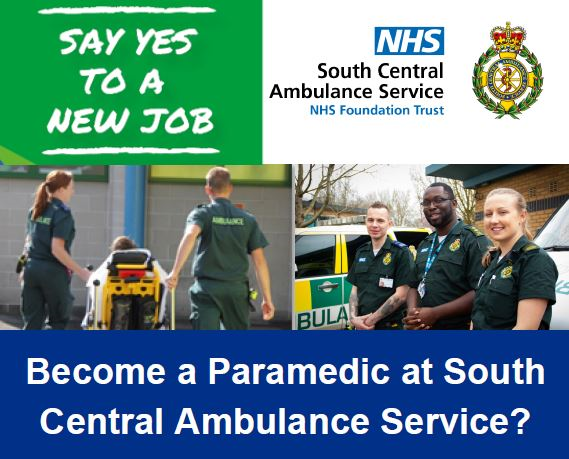 To view the South Central Ambulance Service Promotional Brochure see the Related Documents section below.
Yorkshire Ambulance Service NHS Trust 
Hello from all of us here at YAS, serving the wonderful region of Yorkshire and the Humber in the North of England. We're delighted to be involved in this programme and excited about welcoming Australian Newly Qualified Paramedics into our team.
There is so much we'd like to tell you about YAS and the region we serve and as a start we've produced a booklet to give you a little more information.  It tells you more about the areas you could soon be working in, the amazing opportunities we offer our Paramedics at YAS and our values as an organisation. We also asked some of our Paramedics to talk a little more about their roles and why they like working here.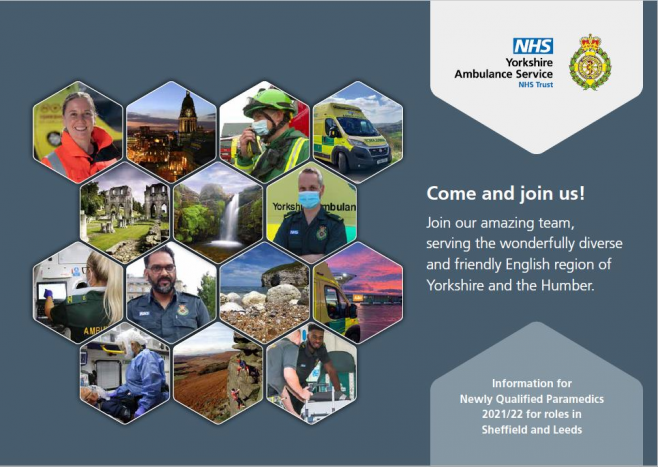 To view the Yorkshire Ambulance Service Promotional Brochure see the Related Documents section below.
You can also visit our website
and take a quick look back at our year 2020-21 in this short film
If you've never heard of Yorkshire, you're in for a surprise. It covers an area of around 12,000 square kilometres and is incredibly diverse - large modern and busy cities, beautiful national parks, isolated moorland and amazing coastlines. It's simply a great place to live and work. The team at Welcome to Yorkshire have produced this short film – so why not start by taking a look at the region that could soon be your new home.
Welcome to Amazing - Welcome to Yorkshire
What's next:
We intend to conduct interviews in person at multiple regions throughout Australia in the first quarter of 2022.
Interested candidates will have the option of choosing a preferred region to work in England. The successful candidates must be able to relocate to England from mid-2022.
The application form can be found here. The closing date for submission of an application form is 3rd January 2022.
If you have any queries please contact us global.ahps@hee.nhs.uk
FAQ for Parents, Guardians and Family Members
We appreciate that while such an opportunity is exciting for interested newly qualified paramedics, naturally it will constitute a big change for the whole family unit. As such, we wish to assure you that the safety and welfare of your family member is at the forefront of our programme.
This programme has been designed with a supportive door-to-door approach in mind. We are offering a seamless transition to England and have ensured that appropriate pastoral care programmes are in place to provide ongoing help and support once they are in post.
Please find our frequently asked questions here.
We look forward to receiving your application and welcoming you to the National Health Service soon!