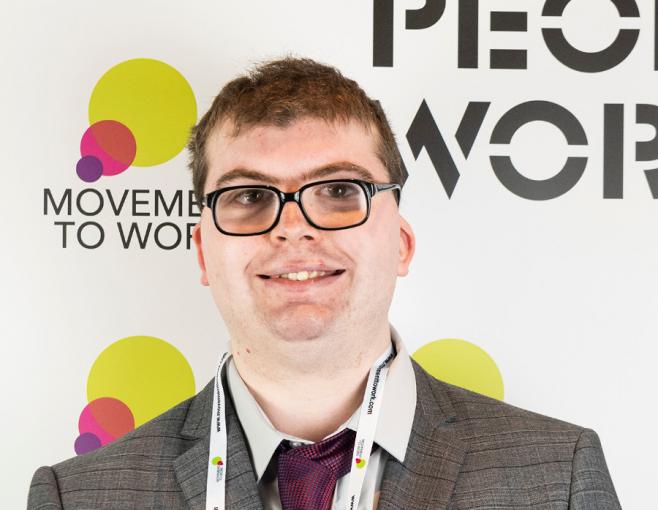 Jack - Getting the dream job
Jack was a carer for his grandad from aged 13 until he passed away in 2019. "My grandad always wanted me to be a carer and it has always been a goal of mine. Now I am the best carer there is" Jack said.
Jack has a learning disability and hearing difficulties and needed some support to get into paid employment. He started a Supported Internship course with Project Choice in 2015. His first placement was at a care home working with older people, specifically with dementia. He started in the kitchen doing various duties preparing food, and the staff supported him to experience different roles around the care home including facilitating group activities with the residents.
My job means a lot to me. I just want to work and make sure that all the residents are happy, cheerful and have laughter every day. I want to make sure that their families are all happy with the care. That is all that matters to me.
After impressing management, he was asked to continue with the placement for the duration of the academic year. Towards the end of his Project Choice placements, Jack completed a 2 week Get into Care scheme with the Princes' Trust where he worked on developing his skills and experience in care, with Helen McCardle Care. "I enjoyed every single moment of it!" says Jack. The scheme involved additional learning including a Level 2 certificate and first aid training. Jack remembers that, as part of the Get into Care scheme he was required to present about his learning to the group and also run activity groups independently, without support from staff. 
Following the completion of his Supported Internship, Jack was successful in being offered a two year apprenticeship at Helen McCardle Care. After the first year, Jack was offered part time work as an activities coordinator and worked across two different sites. Now, years on, Jack works full time, supports other care homes who are understaffed and trains new staff starting in care. It is well known that Jack has a natural talent building rapport and engaging all the care home residents.
On reflection of his Internship, apprenticeship and work in the care home, Jack stated that it really helped him to have a routine. It helped him to be able to do his job and to be really good at it. "It helps to know where you are at and what is expected of you" said Jack.
Jack has now been asked to step up into a Care Assistant role. He has been offered additional training, and now completes care related duties including assisting residents with personal care, eating and ensuring that they are "comfortable and have a good day, every day" said Jack.
Jack does admit that getting work is not easy, and people need more opportunity to build more confidence. Jack said "you need to take it day by day, make a target for yourself and work towards that target."
Jack succeeded to use his internship as a pre entry-level opportunity to help build his skills to enter the workforce. He is now a valued member of team, knowledgeable, a model worker, and has a true mind set for care and support.
Jack knows that this is what his Grandad would have wanted and he is so happy to be able to reach the goals that he said he would.