HEE leaders recognised in prestigious HSJ BAME list
11 October 2021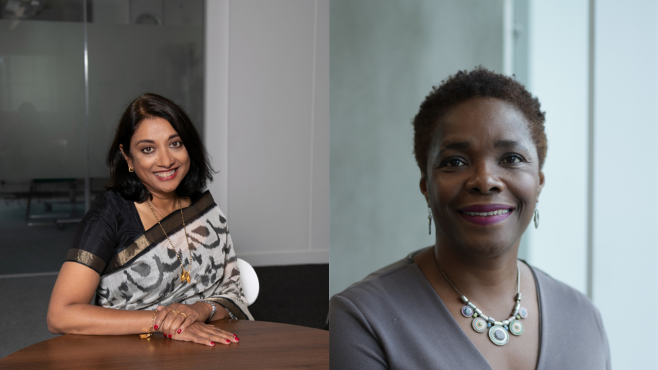 Navina Evans, HEE's Chief Executive, and Laura Serrant, Head of Nursing and Midwifery in the north east and Yorkshire region, have both been recognised in the HSJ's prestigious list of influential BAME people in health.
The list has recently been publicised to coincide with Black History Month. According to the HSJ, the list consists of "50 Black, Asian and minority ethnic figures who will exercise the most power and/or influence in the English NHS and health policy over the next 12 months." 
Writing about Navina, the HSJ mentions that "there is no greater issue than workforce in the NHS" and that Navina took over as Chief Executive last year at HEE.
"Since then, HEE has had to support the vaccination programme while thinking about the long-term needs of the NHS. She has led a shift towards a more 'digital first' organisation and made some HEE e-learning coronavirus resources available worldwide free of charge to help other health systems."
Laura was appointed as Head of Nursing and Midwifery in the north east and Yorkshire region last year after two years as head of the nursing department at Manchester Metropolitan University - at the time the only Black head of nursing in a UK university.
The HSJ mentions that Laura "has held several other academic posts as well as working as head of evidence and strategy in NHS England's nursing directorate. In 2017, she was appointed chair of the Black, Asian and minority ethnic strategic advisory group for NHS England."
Much of Laura's academic work has focussed on racial and ethnic inequalities and cultural safety. The article mentions that "she is passionate about hearing the voice of marginalised communities and has developed a framework for conducting research in the area. She has appeared on several power lists of the most influential Britons of African or Afro-Caribbean descent and regularly appears in the media."