Regional Head of Nursing and Midwifery wins Lifetime Achievement Award
2 November 2021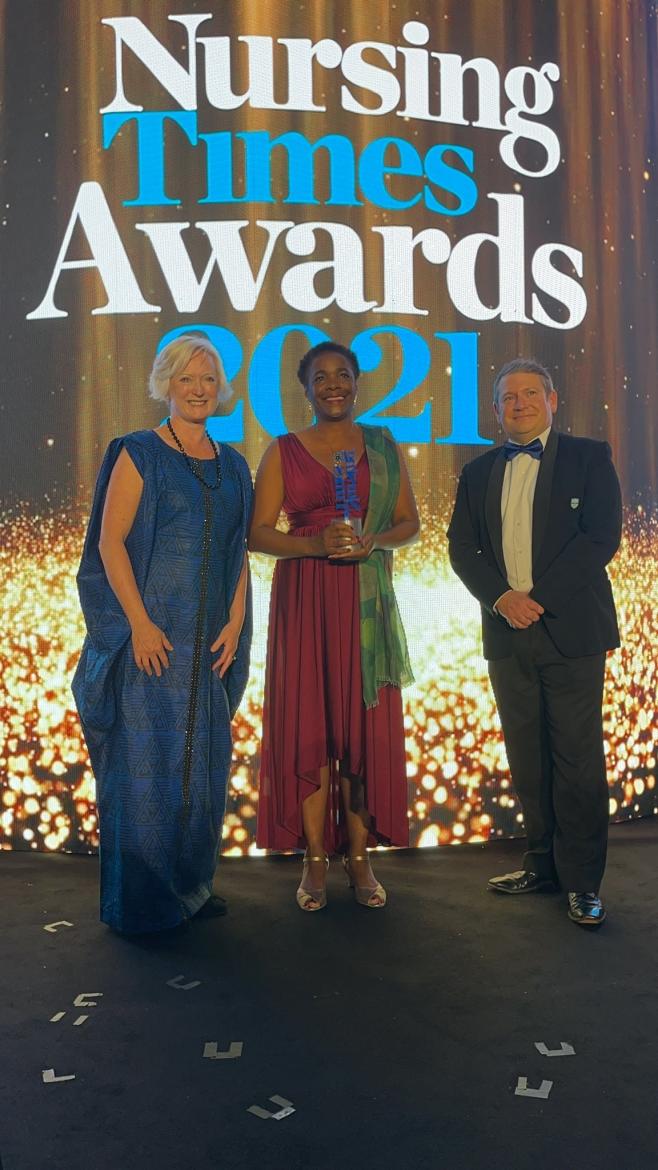 Professor Laura Serrant, Head of Nursing and Midwifery in north east and Yorkshire, has won the Chief Nursing Officers' Award for Lifetime Achievement at the 2021 Nursing Times Awards.
The awards were held at the Grosvenor House Hotel in London on 27 October. Chief Nursing Officer (CNO) for England Ruth May presented Laura with the prestigious award, describing her as an inspirational nurse academic and commending Laura's remarkable strength and courage to consistently raise challenging issues associated with community and public health nursing, and the experience of Black nurses within the NHS.
Writing about Laura's achievement, the Nursing Times mentioned that Laura attended one of the first graduate nursing programmes, at Sheffield City Polytechnic, where she qualified in 1986. Since qualifying as a nurse, Laura's work has included tackling the stigma associated with HIV. She has done research across many fields including the sex work industry, and alcohol and drug dependency.
The Nursing Times also recognised that Laura has worked tirelessly to improve equality and diversity within the NHS. In 2017 Laura was appointed chair of the CNO's Black, Asian and Minority Ethnic Strategic Advisory Group, and was awarded an OBE for her extensive contributions to nursing in 2018.
Laura said, "I am honoured to receive this award from the four country CNOs. My passionate belief in equity in health and life chances for all has driven my work throughout my nursing professional life – it is also central to my personal values. Being awarded this in Black History month 2021 is even more special - my parents, like many migrants from the Commonwealth came to UK for a better life and opportunities for their children. This is a testimony to them and all the ancestors for their bravery.
Navina said, "This is a fantastic and very well-deserved achievement. Laura is an inspirational role model for so many of us and it is an honour to be her colleague in HEE."
In July of this year, Laura was also inducted as a fellow of the American Academy of Nursing.