Wellbeing
We know our learners strive to deliver the best possible care for patients, which is why it is crucial they look after their own mental and physical wellbeing. 
Students encouraged to have both COVID jabs this summer
Health Education England (HEE) is encouraging all health and care students and learners and those starting programmes in September, to ensure they have had both doses of a Covid-19 vaccine unless they are medically exempt.
Professor Mark Radford, Chief Nurse, Health Education England is leading HEE's drive to encourage student vaccinations which will protect them, their families and those patients they may be caring for and enable them to take part in their clinical learning placements. This follows government guidance advising that those working in social care must be fully vaccinated and a number of NHS trusts are now requiring this from all patient-facing health and care staff.
For those planning placements in social care settings, there is currently a 16 week grace period which is designed to allow time for those who have not yet been vaccinated to do so. The Covid-19 vaccine will then be mandatory for all care home workers in England, including students and learners on placements in those settings, from 11 November 2021.
Should any students or learners opt not to have the vaccination without medical reasons, they will need to talk to their university about the impact this will have on their progression through their programme.
For further support and guidance, including for those who are exempt and may require further information on how to continue with placements, please contact your university and placement coordinators.
Book your coronavirus (Covid-19) vaccination
NHS mental wellbeing support package available for staff tackling Covid-19
The NHS has launched a mental wellbeing support package for its 1.4 million staff; to help them as they help people deal with the pressures faced during this global health pandemic. This includes a new mental health hotline (0300 131 7000) which is open between 7:00 and 23:00 every day. Calls offer support for mental health, financial help, bereavement, care and coaching. Staff can also text FRONTLINE to 85258 for support 24 hours a day. The hotline and text service is staffed by more than 1,500 trained volunteers.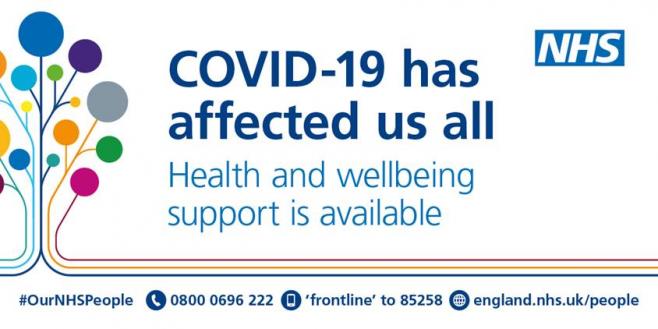 Prof Simon Gregory DL, Deputy Medical Director, Primary and Integrated Care, HEE, said: "I encourage everyone to make full use of these professional resources. It is vital staff feel supported and employers have the right procedures in place to offer all the help that may be needed."
The NHS has been working with charities, such as Samaritans and Hospice UK, to deliver this support.
A website england.nhs.uk/people is also available.
Want to know how to stay safe?
The Healthcare Learners Coronavirus Advice Guide contains useful hints, tips and advice on staying safe while at work, commuting and at home.
The content was collated from questions posed to HEE and experiences shared by learners working on the front line. Read more about this topic.