Health Education England kicks off NHS Values Week 2019
15 July 2019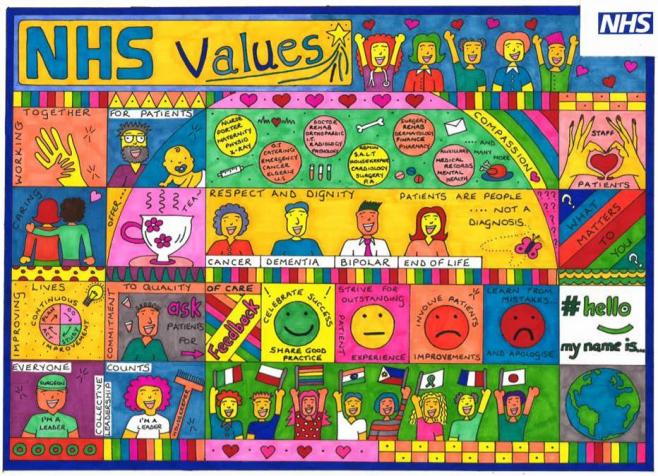 Today, 15 July, sees the launch of NHS Values Week 2019, designed to celebrate NHS values and encourage staff to talk about how they bring these to life on a daily basis.
As part of Values Week, HEE ran a national poster competition and is delighted to announce the winner as Nikki Greenall, Improvement Facilitator at Royal Bournemouth and Christchurch Hospitals NHS Foundation Trust.
Nikki's colourful winning entry, which received 690 of the 1,515 public votes cast, clearly illustrates her trust's values and the importance she and her colleagues place on delivering an inclusive and welcoming culture for all staff members.
Nikki said: "I'm very proud my sketch-note style poster has been chosen to illustrate NHS values. The power of pictures in healthcare should not be underestimated, as the brain processes images faster than text.
"I chose one aspect from each of the values, trying to demonstrate how each are important to me and how they are used in our trust on a daily basis."
In the last few weeks NHS organisations up and down the country have been demonstrating their support for NHS Values Week, delivering a wide range of activities aimed at encouraging meaningful, thought-provoking conversation with colleagues.
To support them, HEE has produced a toolkit including a pledge card, to be completed and shared on social media (#livingthevalues).
The initiative has also received widespread support from senior colleagues including Sarah Wollaston MP, Chair of the Health and Social Care Select Committee, Ruth May, Chief Nursing Officer for England, and Charlie Massey, Chief Executive of the General Medical Council, who have all pledged support on social media.
Professor Ian Cumming OBE, Chief Executive, Health Education England, said: "Nikki's winning poster reminds us all that the NHS is about people and that it is our values which underpin the quality of the service we deliver.
"I hope the conversations taking place in the coming days and weeks will galvanise staff to share their thoughts, views and perspectives in order to shape the forthcoming NHS People Plan."
The People Plan aims to create a modern, caring and exciting workplace that should be the best place to work in England, incorporating staff perspectives on what can be done to improve retention and transform ways of working (#OurNHSPeople).
NHS Values Week will culminate in HEE's Healthcare Education and Training (HEAT) awards on 18 July, when one NHS staff member will be awarded 'Champion of the NHS Constitution'.
You can find more information about Values Week at www.hee.nhs.uk/our-work/values-week. Join the conversation using #livingthevalues.