Meeting the challenge of reducing stress and building resilience in the NHS workforce
4 April 2019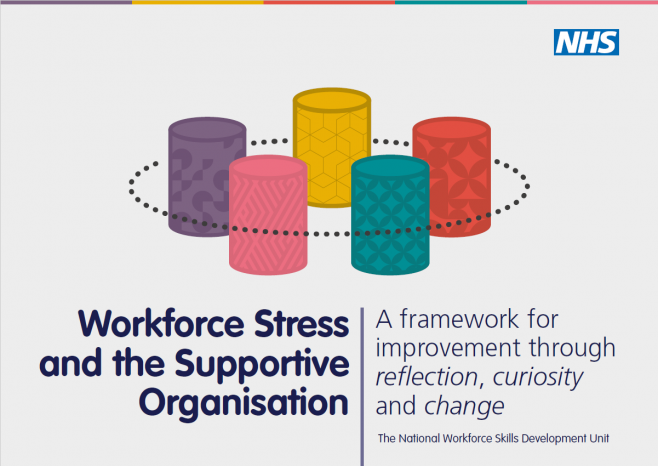 A new framework aimed at helping health and social care employers improve the mental wellbeing of their employees has been launched today by Health Education England (HEE).
The Workforce Stress and the Supportive Organisation – A framework for improvement through reflection, curiosity and change encourages employers to take a closer look at the systems they currently  have in place for managing staff wellbeing,  it challenges them to give greater consideration to the impact  workforce stress has on staff and look at the role they can play in providing better support to staff who may need It.
Health Education England commissioned the National Workforce Skills Development Unit (NWSDU) at the Tavistock and Portman NHS Foundation Trust to develop a resource to get employers to rethink how they deal with workforce stress.
The framework gives further weight to the Mental Health and Wellbeing Commission and its recommendations that employers need to take steps to support staff in building resilience but is a separate initiative to give further guidance and support to employers.
It also talks about the impact of leadership, capacity and capability on workforce mental wellbeing and what employers need to consider.
Professor Lisa Bayliss-Pratt, Chief Nurse at HEE said:
"We must prioritise and improve the physical and mental health and wellbeing of our staff. Staff are our greatest resource – we need to support them to ensure they are the best they can be and provide high quality care.

"This comprehensive framework that has been trialled and tested by NHS organisations provides employers with both practical and theoretical help putting in place the structures and processes needed to support employees deal with the pressures they often face.

 
Ian J Tegerdine, Associate Director at the National Workforce Skills Development Unit, added
"We are excited to have been commissioned by HEE to contribute to the thinking on making the NHS the best place to work and on the challenges of staff absence and retention.

"We believe that shifting the focus away from individual resilience and encouraging more thought about system and organisational support is key to making positive change. We look forward to sharing our framework for improvement through reflection, curiosity and change at this conference."
HEE envisages an NHS where staff and learners are happy and feel fulfilled in their work, where they look forward to going to work and are proud of the care they provide to their patients. There is good evidence that happy staff are more compassionate and provide safer care.
For further information visit https://www.hee.nhs.uk/our-work/mental-health 
A printer-friendly version of the framework is available to download.