Delivering greater flexibility
Giving trainees greater flexibility in their working lives.
HEE is committed to increasing flexibility in postgraduate medical training. As a part of HEE's work to Enhance Junior Doctors Working Lives several initiatives have been developed with partners to increase flexibility within Post Graduate Medical Education. Feedback from trainees indicate that many would appreciate the opportunity to pursue a more flexible approach to their training.
Less Than Full Time Training: Category 3
Less Than Full Time Training (LTFT) Category 3 allows trainees to request the opportunity to undertake a period of less than full time training for personal choice and was initially made available in Emergency Medicine, Paediatrics and Obstetrics and Gynaecology.
LTFT Category 3 is currently available as a short-term offer for all other specialties, but from August 2022 will be rolled out fully to all postgraduate specialties.
The LTFT Category 3 Guidance for all specialties and FAQ can be found below:
- LTFT Category 3 All Specialties Guidance 
If you require these documents in another format please email merp@hee.nhs.uk 
In January 2022, we held a series of 3 webinars for doctors in training who may be interested in the option of Less than Full Time training Category 3. The webinars provided an introduction to LTFT Category 3 and gave the opportunity to ask questions to an expert panel and hear the trainee perspective.
Watch the recording on YouTube.
When And How To Apply
Please contact your HEE Local Office (Deanery) and Training Programme Director for more information on the application process and the deadlines / windows for application.  It is important to give at least 16 weeks' notice of your wish to train less than full time to allow sufficient time for the employing Trust to be notified and to discuss with the Training Programme Director for the purposes of rotation planning. 
Acceptance of your application may be dependent upon and might be limited by service considerations as well as the capacity of the training programme itself. Those who are Out of Programme or undertaking "Acting Up" placements are not eligible.
LTFT Category 3 has not yet been launched for those in the Foundation Programme. However, from August 2022, those training in the Foundation Programme can apply to train LTFT Category 3 at 0.8 full-time equivalent for a period of 4 months. Those who are interested should contact their local Foundation School for more information. Medical or dental students who express a wish to train LTFT prior to Foundation Programme selection should apply for Foundation placements in the same way as other graduates. Once you have secured a rotation you may wish to apply for LTFT training via your local office. Your local Foundation school will work with you to identify a suitable location and rotation where appropriate.  
Less Than Full Time Category 3: Evaluation
RSM UK Consulting LLP (RSM) was commissioned by HEE in 2020 to conduct a three year longitudinal evaluation of the LTFT Category 3 initiative. The Year 1 Report explores the current profile of LTFT Category 3 trainees, and the perceptions of LTFT Category 3 trainees, other trainees, Champions of Flexible Training, educators and employers of the impacts of the initiative. This report also provides a series of further recommendations to enhance the ongoing development of the programme.
This evaluation has now completed the second year, and a summary of these findings can be found below:
Impact of the LTFT Category 3 initiative on trainees:
100% of survey responders agreed/strongly agreed that it has increased their sense of work/life balance
100% of survey responders agreed/strongly agreed that it has increased their sense of wellbeing
93% of survey responders agreed/strongly agreed that it has increased their likelihood of remaining in training
Impact on future career plans:
86% of LTFT Category 3 survey responders intend to become an NHS consultant 
Impacts on service provision:
29% of wider trainees and 61% of educators regarded LTFT Category 3 as having negatively impacted on service provision. Interviews with employers suggested a similar perception.
Interest in training LTFT:
86% of FT survey responders would consider training LTFT. The majority of these trainees (79%) would consider an 0.8 WTE role. 
An infographic showing the full results can be downloaded here.
Less Than Full Time Training - A Guide
Below are three short videos which explain Less than Full Time training in more detail.
Applying 
Pay
Rota Patterns
Your HEE local office will be able to advise on application windows and application information for each HEE local office can be found below:
North East and Yorkshire
- North East Lead Employer Trust Policies 
- North East Education and Training Policies 
North West
East of England
Midlands
London
- London
South East
- Wessex
South West
Out of Programme Pause 
Allowing trainees to step in and out of training, and to the have their learning during this period assessed on their return and potentially count towards their CCT. More information for trainees considering Out of Programme Pause (OOP-P) can be found here.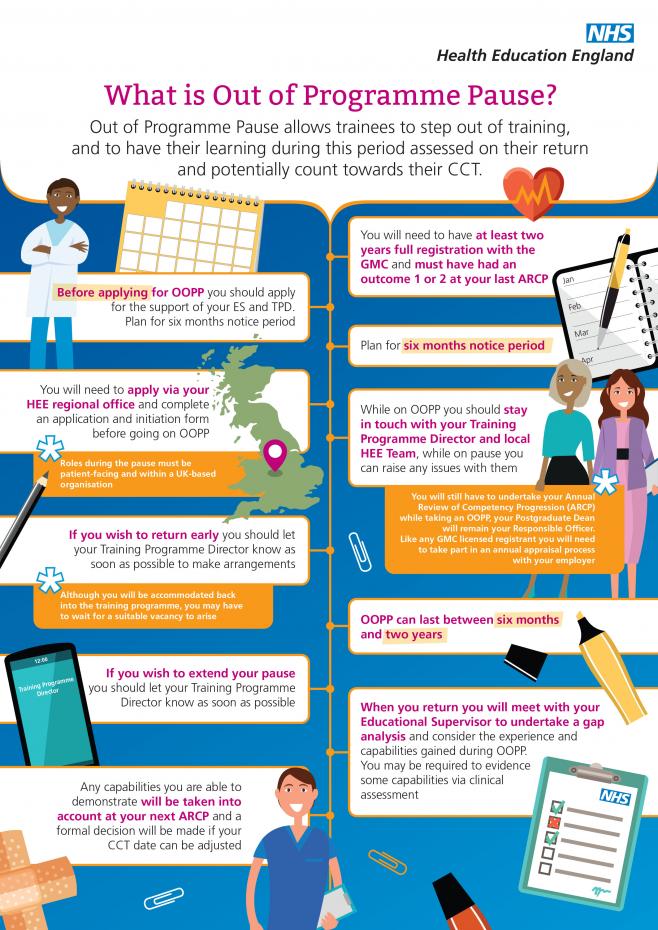 For further information, contact the team.