Clinical endoscopist training programme
To address the increasing demand for endoscopy services HEE has worked with the Joint Advisory Committee on Gastrointestinal Endoscopy (JAG) to develop a clinical endoscopist (formerly non-medical endoscopist) training programme. Successful trainees from the programme have advanced their careers while helping to meet endoscopy service demands in their trust and freeing up medical colleagues to concentrate on more complicated cases.
---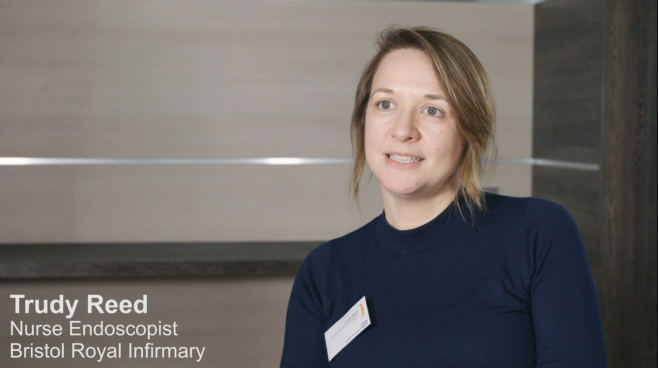 This accelerated seven month programme has been designed to teach suitably qualified nurses and Health and Care Professions Council (HCPC) registered healthcare professionals to perform safe diagnostic procedures in either upper gastrointestinal (GI) endoscopy or flexible sigmoidoscopy.  
Two pilot trainee cohorts completed the training in 2016 and following a positive initial evaluation report by the Office for Public Management (OPM), the programme is being rolled out more widely.
To date, some 105 trainees are now either in training or have completed training. 
"It is such a brilliant program! It is intense, but provides robust quality training for Non-Medical Endoscopists"  - Jun Wang, Nurse Endoscopist/ Endoscopy Specialist practitioner – University Hospital Southampton NHS Trust.
Feedback shows trainees are helping to meet clinical demand, reduce waiting lists and contributing to a better patient experience. The full follow-up evaluation will be published in the spring and will be available on this page.
"I think actually what it's done has put better practices in place, before it was very ad hoc, the trust has focused on training massively and the planning worked has benefited us and the registrars."
Developing your career
Trainees who have completed the programme have found it a rewarding way to develop their skills and advance their career in a practical patient focused role. They are taking on new roles such as clinical research, leading clinics and designing pre-assessment services alongside utilising their new scoping skills to have a positive direct impact on quality of care for patients.
"I thoroughly enjoyed the course and I am now running my own list in the endoscopy unit alongside my role as an inflammatory bowel disease (IBD) nurse. It has expanded my knowledge, skill base and my role as a IBD nurse" – Alexandra Westhoff, IBD Nurse Specialist/ Non-medical Endoscopist – St Helens and Knowsley Teaching Hospital NHS Trust.
Am I eligible?
The programme is open to and supports those who will be providing endoscopy services for the NHS including;
Nurses, Nurse Practitioners, Clinical Nurse Specialists in Cancer,
Clinical Nurse Specialists  in Endoscopy, GI Radiology, GI Surgery, Gastroenterology
Dieticians
Radiographers  - Therapeutic and Diagnostic
Operating Department Practitioners
Specialist Screening Practitioners
Note: the programme is not open to medically qualified applicants.
The training programme
The accelerated training programme takes seven months and comprises of:
clinical in house practical skills training to achieve JAG certification (suggested minimum of two dedicated endoscopy training sessions per week) requiring at least 200 procedures.
regular meetings with local mentor and clinical supervisor
attendance at study days at a university, leading to academic accreditation
completion of academic assignment (currently 4,000 word case study)
completion of JAG certification in either diagnostic upper GI (OGD) or flexible sigmoidoscopy
completion of the competency portfolio signed off by clinical supervisor
completion of SLATE e-learning package
attendance at JAG Basic Skills course (2-3 days)
To enable trainees to train within the timeframe, employing organisations are expected to provide local support, including clinical supervision, good access to clinical lists to enable trainees to complete the necessary 200 clinical procedures, and sufficient release from other responsibilities to support trainees to focus on the programme requirements.  
What do I need to do next?
If you are interested in applying for the training programme or putting forward a candidate from your trust, please complete and send the application pack to NME@rcplondon.ac.uk.
Shortlisted applicants will be invited for interview.
Key dates
To start your training in 2018 it is worth noting the following dates;
To be accepted onto the trainee cohort 8
Applications should be submitted by 06 August  2018 to start in September 
To be accepted onto the trainee cohort 9 
Applications should be submitted by 08 October 2018 to start in December 
Clinical supervisors are required to attend induction days with successful trainees.