Library and Knowledge Services
Library and knowledge services
Healthcare library and knowledge services underpin education, lifelong learning, research and evidence-based practice. Our ambition is to extend this role so that healthcare knowledge services become the integral part of informed decision-making and innovation.
We published Knowledge for Healthcare, sharing our vision that NHS bodies, their staff, learners, patients and the public use the right knowledge and evidence, at the right time, in the right place, enabling high quality decision-making, learning, research and innovation to achieve excellent healthcare and health improvement.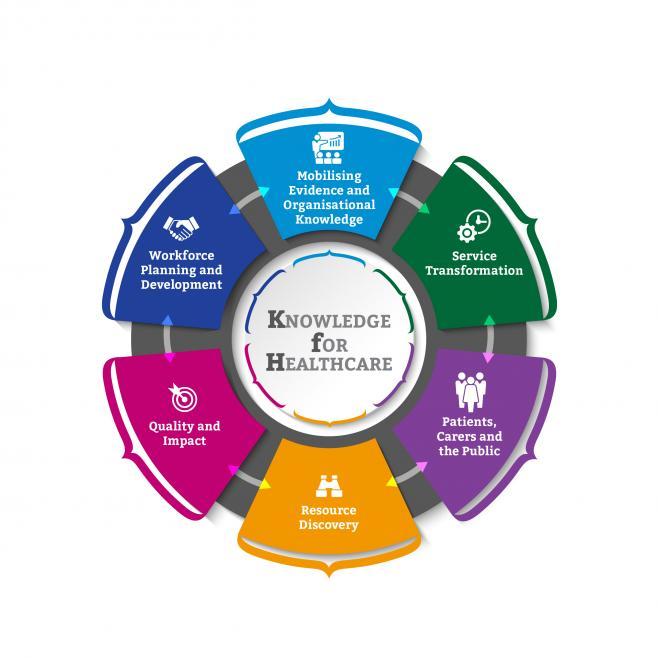 This development framework sets out an ambitious vision for provision of Library and Knowledge Services and is a significant transformation programme.  
The development framework is now supported by a new Outcomes Framework that helps NHS-funded organisations review and improve their healthcare library and knowledge services.
We are committed to enabling all NHS staff to have free access to library and knowledge services so that they can use the right knowledge and evidence to achieve high-quality, safe healthcare.
Here's what people say about the important role of healthcare library and knowledge services...
Professor Ian Cumming OBE, Chief Executive, HEE:
Every day across the healthcare sector more than a million decisions are made which have a profound impact on people's lives and which influence the quality and cost of healthcare services. The Government and health organisations have obligations under the Health and Social Care Act 2012 to ensure the use of evidence from research and to make use of the best available evidence in their decision-making.
Lisa Bayliss-Pratt, Director of Nursing and National Deputy Director of Education and Quality, HEE:
All healthcare students and trainees/learners should have access to the best available evidence to ensure they do their very best to care safely and effectively for those that put their lives in their hands. Our excellent library and knowledge services, easily accessible and available, underpins the training that nurses undertake and supports them through their revalidation.
Patrick Mitchell, Regional Director – South of England, HEE:
With the NHS striving to reduce clinical variance across the system to improve clinical efficiency and effectiveness, improve patient safety and save money, the importance of strong evidence to a Board or a healthcare professional at the patient's bedside can never have been more crucial. The knowledge management skills of our healthcare librarians are at the fore and I am very excited to be leading this major change for a key but almost 'hidden' workforce in the NHS. The direct benefit to patients is evident from case studies and it is a delight to see so many healthcare librarians put themselves forward for the variety of development programmes we have established to underpin this transition. Our librarians are the backbone of support for learning and I encourage everyone to see what they are doing.
Professor Wendy Reid, Director of Education and Quality, Medical Director, HEE:
Putting timely knowledge into the hands of healthcare professionals working across care settings is vitally important for making clinical decisions that are based on sound evidence. With unprecedented time pressures on health professionals, embedded health librarians and knowledge services to support them in clinical and community settings are a vital resource.