Advanced Clinical Practice (ACP) in Midwifery
Better Births (2016) highlights the need for multi-professional working, breaking down barriers to deliver world-class safe, personalised care for women and their babies.
In response to this, the Health Education England (HEE) Maternity programme commissioned the University of East Anglia (UEA) to undertake a deep dive review of the current workforce in England. The review focussed specifically on Advanced Clinical Practice (ACP), specialist midwife and consultant midwifery roles in England.
An evaluation report has been produced outlining the findings and includes a number of recommendations.
This report looked at:
Current levels of education and training programmes (including details of external providers/in-house provision) for advanced clinical practice in midwifery, specialist midwifery and the consultant midwifery workforce 
The competence frameworks that are currently in use for developing ACP in midwifery, specialist midwifery and the consultant midwife workforce 
Examples of midwifery ACP, specialist midwife, consultant midwife job descriptions (Band 6 and above) 
Examples of innovative practice relating to midwifery ACPs, specialist midwives and consultant midwives (including education, training, development and deployment).
The report also included a mapping exercise which compared the Nursing and Midwifery Council (NMC) standards for midwifery against the HEE Advanced Practice Framework.
Moving forward HEE will review these recommendations with our stakeholders and support where possible their implementation across the NHS.
This report gives us a fantastic insight to the current use and understanding of advanced practice in midwifery. We thank UEA for their tireless work undertaking this project during a difficult period and look forward to reviewing the recommendations. These recommendations will help shape the future maternity workforce so it can implement the workforce vision outlined in Better Births and the Maternity Workforce Strategy.

Sally Ashton-May, Lead Midwife Health Education England
This was a fantastic opportunity for us to talk to some really innovative midwives and leaders across England. Many were working in new roles and within services designed to support local population needs in a more focussed way. We hope this report sheds light on new opportunities for midwives to develop clinical careers. Thanks to all who gave their time and shared their experience. 

Professor Kenda Crozier, Professor of Midwifery University of East Anglia
Download the report from the right hand side of this page.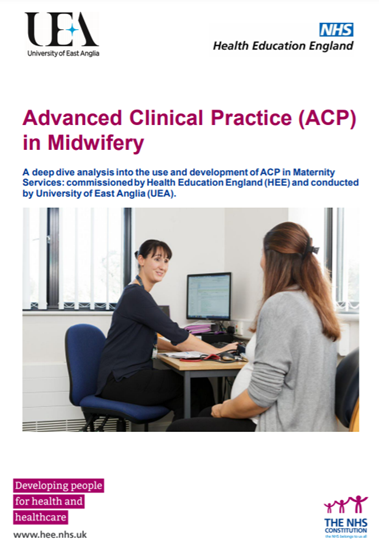 Return to the top of the page.