Maternity
Contents
HEE is leading on a programme of work to help shape the future maternity workforce, supporting the vision set out in the report of the National Maternity Review, Better Births, to improve maternity care in England. We are also undertaking work in response to the recommendations of the final report of the Ockenden review of maternity services at the Shrewsbury and Telford Hospital NHS Trust.
Our Ockenden Immediate and Essential Actions catalogue provides a central location for resources to support maternity services to deliver the Ockenden recommendations and support the health and wellbeing of staff. It includes links to e-learning, toolkits and publications.
HEE is also supporting neonatal services with the implementation of the Neonatal Critical Care to help deliver the government's ambition to reduce the rate of stillbirths, neonatal and maternal deaths and intrapartum brain injuries in babies in England by 50% by 2025, to ensure England is one of the safest places in the world to have a baby.
General enquiries: maternityprogramme@hee.nhs.uk 
Take a look at our journey so far: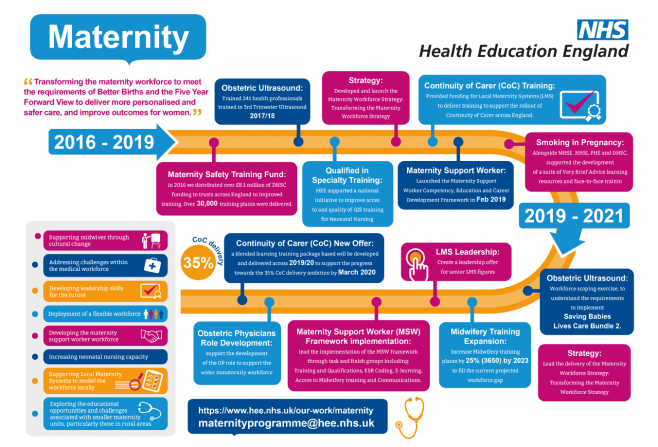 More about our maternity work:
Return to the top of the page.