Building diversity and inclusion into trainee pharmacist recruitment
Health Education England were presented the inaugural Diversity and Inclusion Award at the prestigious Chemist and Druggist Awards on Friday 18 November 2022. Here we chart the journey to the award, and why the Oriel recruitment process is good news for trainee pharmacists and for employers.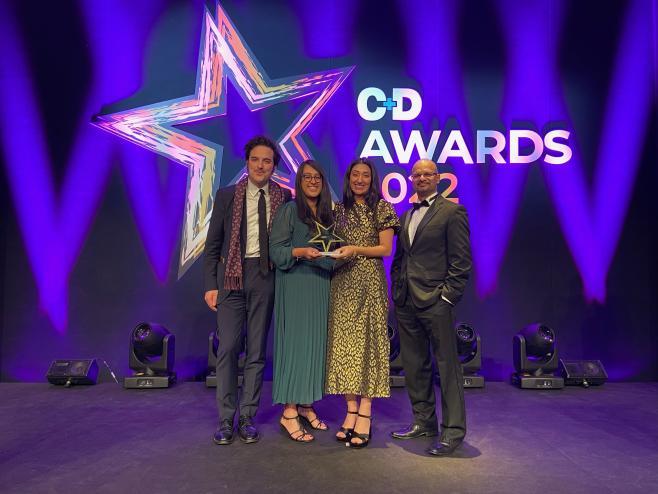 Pictured receiving the award: Mark Bellaera, Service Delivery Manager, Bhavini Tailor, Operations Manager, Benazir Khan, Service Delivery Manager, and Atif Shamim, Associate Head of Pharmacy (London and South East) and Lead for the National Recruitment Scheme
Challenging the status quo 
Historically the pharmacy recruitment model has always been fragmented, with huge variation in recruitment practices leading to recruitment bias. Various personal accounts suggested that preferential appointments were made to the prejudice of BAME applicants, aligning with systemic flaws revealed in research conducted by the General Pharmaceutical Council. 
The Pharmacy National Recruitment Scheme (NRS), also known as Oriel, was established in 2017 to offset any bias at the point of entrance into the profession. It is mandated for all posts funded by Health Education England and currently optional for community pharmacy places funded by NHS England. 
The aim is to eliminate variation in recruitment into these training posts and align pharmacy processes with other professions, notably medicine, dentistry and healthcare science. Applicants submit a single application using the Oriel IT system and are allocated their highest preferenced place, based on their performance in selection centres. 
These processes have been so well received that in 2021 Scotland joined the Oriel pharmacy scheme permanently, agreeing to use the same recruitment methodologies and aligning to Oriel timelines. An applicant sits only one assessment and can choose to work anywhere across England, Wales and Scotland.  
How Oriel works 
Oriel recruits trainee pharmacists against an employer-approved set of professional attributes judged essential for pharmacists working in the NHS. This standardises and oversees assessment processes on behalf of pharmacy employers from all major sectors of practice, including community, hospital, General Practice and Health and Justice.  
Key change

Oriel permits applicants to choose their employer rather than the reverse. As it is based on values and behaviours, the process does not take into account academic achievement, school of pharmacy, ethnic background or gender and so does not allow recruiter bias to affect candidate scoring.
Impact on recruitment 
Buy-in from all stakeholders has been huge. In 2022/23 over 3,000 applicants (almost all eligible UK students) are accessing approximately 4,000 training places that comply with a range of markers designed to ensure a high-quality training experience.   
The Oriel process demonstrates clear equality and diversity benefits for all NHS stakeholders. A values-based approach, recruiting for the NHS and with employers accepting their allocated trainee, unseen, rather than choosing one themselves, has created a measurable positive change in the recruitment demographics of the trainee workforce.  
Key benefits of Oriel 

During Covid, we were quickly able to instigate measures that let applicants undertake their assessments from home if they had to isolate, and from almost any country in the world. These facilities remain, and so those who cannot attend a UK assessment centre are not excluded from the process.  

UK assessment centres are located near pharmacy schools and urban centres. For those struggling financially, the capability to sit one process rather than travelling to attend multiple interviews for different employers is a huge cost-saver.  

Inclusion is a key aim of Oriel; during the latest independent equality and diversity review, one panel member was very pleased to see Mx/preferred name as options within the application. It made them feel that their identity needs had been considered and put them at ease for the rest of the process. 

Inclusivity consideration extends to the assessments themselves. All scenarios are written and reviewed by a diverse pool of pharmacists drawn from all sectors of practice, including those for whom English is not a first language, to ensure no hard-to-understand colloquialisms enter the scenarios. 

As trainees choose their post, access to any training place is open to all applicants regardless of any protected characteristic or school of pharmacy bias, creating a truly level playing field for applicants and a trainee who has undergone a rigorous and evidence-based recruitment process for employers.    

For applicants, Oriel has delivered significant benefits. In a recent focus group with Black African females, there was a unanimous view that the process was fairer than old-style interviews, and that ranking of individuals based purely on their scoring allowed far less bias to creep into the selection process and was 'more of a level playing field'.

Some comments: "I'm really grateful to this system because I didn't go to the best University, but I still ended up in one of the best London hospitals"  "…I'm glad we weren't judged on how we look or what Uni we came from"   "…It's really good to see that it's actually helping people from our society"  
Any questions?
If you have any further questions, please contact the National Recruitment Scheme. 
Keep up with changes to the initial education and training of pharmacists: Sign up for our monthly newsletter.  
Registration Assessment performance among Black African candidates
Read the report