The National Education and Training Survey (NETS)
The HEE National Education and Training Survey (NETS) 2020 runs throughout November (3rd-30th), with a new strapline – Let's talk. This is the only national survey open to all healthcare trainees and students across all clinical learning environments and takes between 10-15 minutes to complete.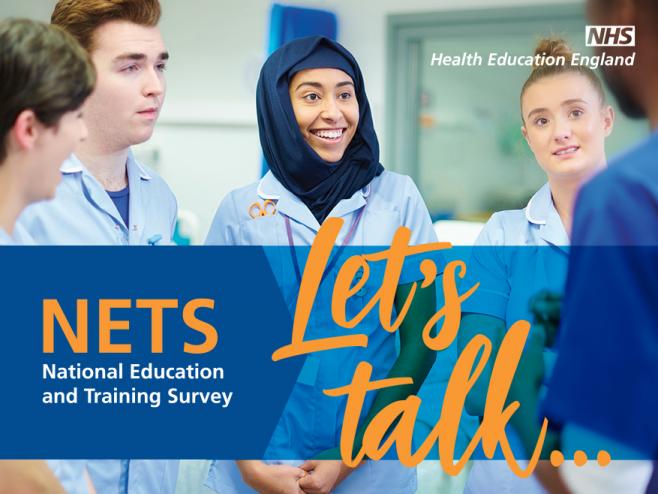 The NETS gathers opinions from students about their time in clinical placements, asking them to provide feedback on what worked well and what they think could be improved. Survey results offer universities, colleges, healthcare placement providers and HEE further insight into the quality of the clinical learning environment.
This year, as students may be undertaking clinical placements during pandemic surges, the survey provides an additional opportunity to understand their experience and any impact on the quality of training. 
In this short video, we ask HEE Medical Director, Professor Wendy Reid, why it is important to complete the NETS. See our HEE NETS Reporting Tool Walkthrough.
Watch our NETS animation. For information email NETS@hee.nhs.uk.
Medical, dental, military and healthcare science trainees and HEE global learners will receive a personalised email invitation to the survey. Please complete the NETS via this link to access a version of the survey pre-populated with your training programme information.