Quality
Information and guidance around Quality during the Covid-19 pandemic
Quality during the Covid-19 pandemic
Position statement for second and subsequent Covid-19 surges 
HEE will deliver its core quality function during the next Covid-19 surge (and compounding winter pressures) and subsequent surges, by taking forward the lessons learned during the first wave, developing and building on the innovative approaches to quality.  This will be done with strict adherence to local and national COVID-19 rules, policies and in agreement with system partners. Further detailed guidance is being created for local and regional teams to ensure consistency and promote best practice while recognising the need for local flexibility and decision-making.  
The core principles set out in the initial surge will remain in place and set out HEEs expectations during this and subsequent surges to ensure learner and patient safety. Further details can be found in our position statement, updated in January 2021.
Our Quality Strategy and Quality Framework, which underpins our approach can be found here. Please note these documents are currently under review, with updated versions due to be published in 2021.
Our current work
November 2020
Central to HEE's approach to managing the quality of healthcare education and training is its Quality Strategy.  First published in 2016, HEE's Quality Strategy underpins its multi-professional standards for healthcare education as outlined in the HEE Quality Framework, as well as its guidance for local teams as presented in HEE's Quality Handbook.  At the outset, HEE explicitly undertook to regularly refresh the Quality Strategy and accompanying documents in recognition of the ever-changing landscape of education and training and the wider context within which it takes place.  The COVID-19 pandemic, and lessons learned, has also brought into focus the opportunity to reflect on, and clearly articulate, HEE's role in the quality assurance and quality management of clinical learning environments. 
With the support of, and in conjunction with, regional and local teams and other colleagues across HEE work is underway to review and update the Quality Strategy and Framework with refreshed versions, due to be published in Spring 2021.
Multi-professional clinical supervision
Alongside the HEE Quality Strategy and Framework update, HEE is working collaboratively with system partners to develop and implement a strategy to support multi-professional clinical supervision. This work is timely, as we recognise the need to build capacity within the system to support workforce expansion and recognise that healthcare is delivered in a more multi-professional environment. The focus of this work will be to support capability and capacity within the workforce; achieve national consistency, including terminology; develop principles for multi-professional supervision and those that provide it; develop a mechanism for monitoring implementation and improvement; and support multi-professionalism within the workplace. Outcomes of this work will include a robust implementation plan, curation of training and current provision for supervision, gap analysis, a set of principles to support multi-professional supervision, common language, and educational resources and tools.
The outputs of this work will also align with the refreshed Quality Framework and new NHS Education Contract. This work will progress in four phases, including stakeholder and system engagement, and testing is planned for Spring 2021. 
The National Education and Training Survey
The multi-professional NETS went live on November 3 2020 and the survey will remain open until 30 November. The survey aims to capture feedback from all healthcare learners about the quality of their placement learning environment. Key indicators such as induction, supervision and wellbeing form part of the survey which allows the quality team to hear the voice of our learners and identify concerns and issues, as well as good practice. The data from the survey is shared with partners to inform quality management.
The NETS will be supported by several learner focus groups, allowing us to explore emerging themes in more detail, through the learners narrative.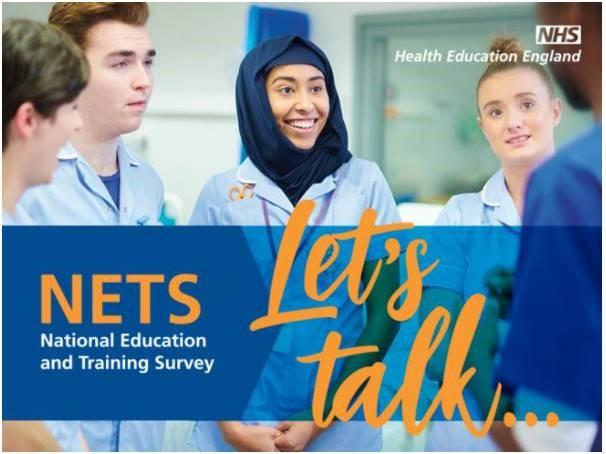 Visit our National Education and Training Survey (NETS) page to complete the survey or find out more.
Visit the NETS page
Return to the top of the page.