Digital education
As an enabling function, Technology Enhanced Learning (TEL) aims to support the health and social care workforce to use technologies and techniques to improve patient care.
Learning Hub
TEL identified the need for an easy to access, national learning solution for the health and social care workforce. The Learning Hub includes resources contributed by NHS colleagues and those developed in collaboration with TEL. Users will find videos, guidance documents, virtual reality resources on a range of topics, organised in catalogues.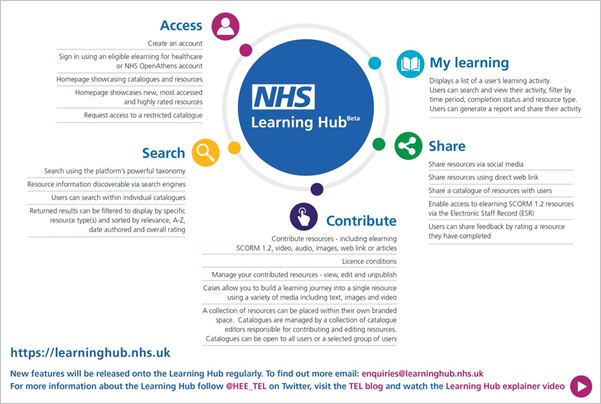 Currently in a beta phase for the NHS health and social workforce, features in the Learning Hub continue to be developed and launched on a priority basis. 
In the future, the TEL team aim to transition the Learning Hub to a public beta phase, where the platform is open for use on the internet. After further developments, the platform will go live and move into its maintenance and gradual development phase.
Anyone with an NHS email address or university email address can register on the Learning Hub or login with their elfh hub details.
For more information about the learning hub project, please email tel@hee.nhs.uk and visit the TEL Blog.
elearning for healthcare
HEE elfh aim to support patient care by providing elearning resources to educate and train the health and care workforce. With over 500 elearning programmes available, elfh content is quality-assured and available free of charge.
Our elearning programmes are developed in partnership with professional bodies, including Royal Colleges and associations, NHS organisations, charities and other health and care organisations for the entire health and care workforce, including teachers, volunteers and local government, to make maximum impact on the quality of care that users of the Hub deliver. 
Topics covered by our elearning programmes cover audiology to anaesthesia, dentistry to dermatology, emergency medicine to end of life care, primary care to prescribing, safeguarding children to statutory and mandatory training.

The elearning programmes are available via the elfh Hub, with most also being available via the Electronic Staff Record (ESR). HEE elfh programmes are also available via OpenAthens, meaning that anyone who is entitled to an OpenAthens account can access the content free of charge. More information about OpenAthens and its eligibility criteria can be found on the NICE website.
Some HEE elfh programmes are also available internationally via eIntegrity.
For more information about HEE elfh visit: https://www.elfh.org.uk/