Sub regions
The North West is split into 3 sub-regions for the purpose of NW Streamlining, and these are Greater Manchester, Cheshire and Mersey and Cumbria and Lancashire.
Sub-regionally HR Directors have agreed different milestones to achieve the NW core streamlining deliverables, as well as additional milestones and workstreams that are related to the core deliverables.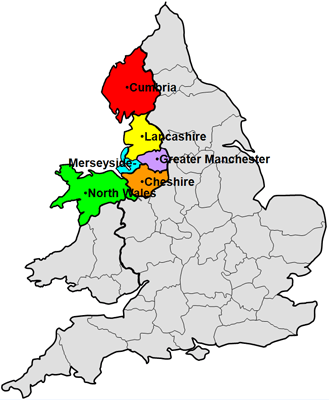 Core deliverables
Our core deliverables were specifically chosen to be consistent and applicable across the whole of the North West as they are reliant on all trusts within the region complying. This enables the region as a whole to be successful and realise the benefits of workforce streamlining.
The core deliverables are:
Recruitment - All North West trusts to request and respond to factual references (FRs) via Inter-Authority Transfer (IAT)
Training - Realise the benefits of Core Skills alignment - by recording, sending and accepting National Core Skills Competencies via Pre-Hire IAT and modifying induction to ensure no one repeats Core Skills training unnecessarily
Occupational Health - All NW Trusts to record and accept immunisation and vaccination records in a consistent manner to enable the transfer of the minimum agreed data set for immunisation & vaccinations electronically in ESR
Sub-regional deliverables
The 18 NHS trusts across Cheshire & Merseyside (C&M) have engaged with the streamlining programme since March 2016.
The establishment of the six workstreams and eighteen trust implementation groups (TIGs) ensure that the implementation of deliverables are fully supported by the Streamlining Area Manager and Implementation Officers.
The first year of the programme commenced in March 2016 and saw much activity including, the establishment of workstreams and trust implementation groups, scoping and baseline of current status across C&M, gap analysis and confirmation of deliverables for year one and two to achieve the high level deliverables which are:
 - Reduce the time to hire
 - Reduce unnecessary staff time spent on statutory and mandatory training
 - Improved staff satisfaction with the recruitment and induction process
 - Release administration time/costs as a result of standardisation and reduction in duplication
The 7 NHS trusts across Cumbria and Lancashire (C&L) have engaged with the streamlining programme since March 2016.
The establishment of workstreams and trust implementation group ensure that the implementation of deliverables are fully supported by the Project Managers and Programme Office 
The first year of the programme commencing March 2016 has seen much activity including, the establishment of workstream and trust implementation groups, scoping and baseline of current status across C&L, gap analysis and confirmation of deliverables for year 1 & 2 at achieve the high level deliverables which are:
- Reduce the time to hire
- Reduce unnecessary staff time spent on statutory and mandatory training
- Improved staff satisfaction with the recruitment and induction process
- Release administration time/costs as a result of standardisation and reduction in duplication
In addition to the core deliverables outlined above, Greater Manchester are also working towards
Recruitment
 - Mandating the DBS Update Service for all eligible staff
 - Implementing a values based recruitment question bank
 - Recording qualifications on ESR
Training
 - Training alignment to the Dementia Framework, which can then be accepted across Greater Manchester Trusts upon transfer
 - Agreed techniques for Prevention and Management of Violence
 - Aggression (PMVA) across the 2 GM Mental Health Trusts, which can then be accepted between the 2 Trusts upon transfer
Policy
 - Designing and developing (or reviewing and adopting from one of the other
sub-regions) the following GM recommended policies
     - Notice Periods
     - Probation Periods
     - Secondments
     - Honorary Contracts
     - Mandatory Training & Induction Policy