Flexibility in the Medical Training Pathway – COVID-19 Interventions
We are committed to supporting trainees during and post COVID-19, by ensuring mechanisms are in place to support trainees' wellbeing and educational provision.  As a result, we are providing an enhanced, specific flexibility offer.
Under this offer, we are extending the out of programme pause (OOPP) offer which allows trainees to take a break from training.
Out of Programme Pause (OOPP)
OOPP is a new form of "out of programme" (OOP) initiative that is currently being piloted across HEE in post-graduate medical training. The scope of the pilot has been supported by the GMC.
OOPP allows trainees to step out of formal training for up to 12 months to undertake an NHS or other patient facing UK based non-training post. This flexibility initiative can be a vital tool to support trainee wellbeing.
OOPP also gives trainees the opportunity to have any capabilities gained whilst out of training assessed upon their return to the training programme, and these may contribute to their CCT (a key difference from OOPE). This would be subject to the agreement of faculty and ARCP panels that these capabilities have been demonstrated once back in training.
If you are interested in OOPP, please speak to your educational supervisor and training programme director. The application window for this iteration of the pilot extends until July 2023. Therefore, your OOPP post may extend past this window. Please also visit your HEE Local Office website for further information on the process.
What is OOPP? - video
Local Office 'out of programme' pages
Find out more
Trainees should make contact with their local HEE office for further information and how to apply
This work forms parts of HEE's Medical Education Reform Programme (MERP) which aims to modernise our approach to medical education to support safe, high quality patient care.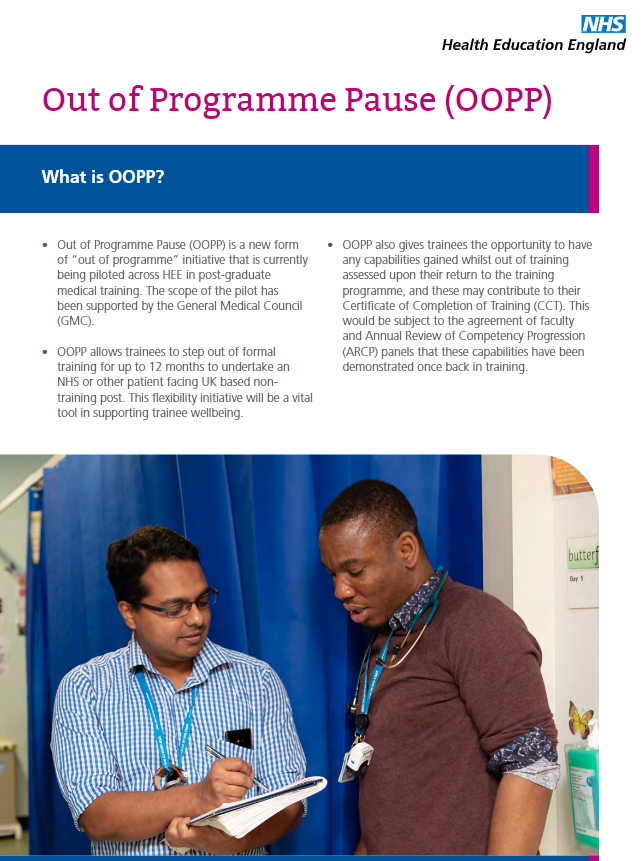 Click on the image above to read the What is OOPP? Out of Programme Pause (OOPP) Faculty Handout document 
- Access Opportunities for Out of Programme Pause: A Short Term offer in response to COVID - Guidance
- Access Guidance for Doctors in Training who wish to undertake Out of Programme Pause: A How-to Guide for trainees
- Access OOPP Frequently Asked Questions 
Please click here to access these documents.
Please contact your local office for a copy of the Gap Analysis Framework or the Initiation and Scope of Practice Form.
If you require any of these documents in an alternative format please email: merp@hee.nhs.uk