Study budget reforms
We've reformed the study budget system for doctors in training. Through the reforms, we're aiming to ensure that access to educational resources is fair, based on individual need, and that the process promotes higher quality, more efficiency, flexibility and transparency.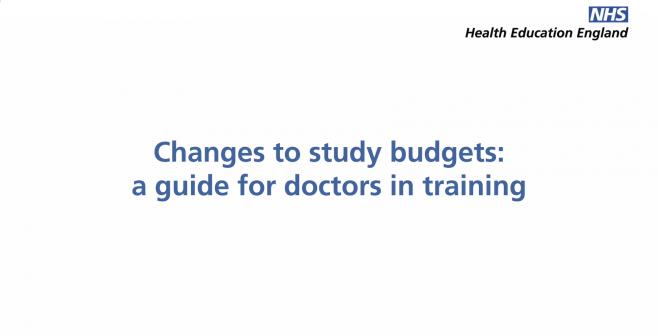 Through our work on Enhancing Junior Doctors' Working Lives, trainees told us that they were frustrated with the system for accessing their study budget.  They reported that access to the budgets was inequitable between specialties and locations, and that in many cases they paid for educational activity themselves.
In response, we are moving away from a 'notional individual annual allocation' of study leave funding that varies across each local office. Our new system will support:
all elements of the delivery of all trainees' curriculum on approved secondary care sector training programmes, including all trust-funded posts; and
discretionary courses that add value to the individual and support the wider system.
Our heads of schools and training programme directors will monitor and evaluate the range of funded educational activities undertaken by trainees, to ensure that it is fit for purpose, providing quality and value for money.
An overview detailing the HEE-wide approach to study leave is available below. This guidance document has been developed through consultation with trainees, their representative bodies, colleges, specialty advisory committees and faculties. 
Public health trainees are outside the scope of the new arrangement.
We have agreed to closely monitor use of the resources to ensure value for money and equity. We plan to publish a formal annual report for the 2018/19 financial year in 2019/20.
Trainees should endeavour to obtain a refund for any pre-booked expenses. If they unable to do so we will honour the claim, but they should provide evidence when they submit their claim that the expense was non-refundable.
All requests for study leave time not taken during the outbreak will be properly considered by the employers and Postgraduate deans and will be subject to the need to maintain NHS services, and training requirements for completion of programmes.
When organisations cancel courses and training, can the Postgraduate dean and their team please ensure that provision for essential courses such as ALS is still available to ensure patient safety remains a priority.
We are asking all parties to be flexible both during and after this difficult time.