HEE Star
The HEE Star is a tool developed by HEE to bring structure and coherence to conversations about workforce challenges and to support workforce transformation.
Content has been recently updated to signpost to a range of key materials made available by HEE to help the health and care workforce respond to the Coronavirus (COVID-19) global pandemic.
Enter COVID-19 into the HEE Star search function to view.
Kirstie Baxter, National Head of Workforce Transformation, gives an introduction to the HEE Star in our video below. 
Scroll down to view the HEE Star online tool.   
The primary function of the HEE Star is as an Organisational Development tool, enabling a comprehensive diagnostic of workforce requirements and better definition and prioritisation of solutions.
Secondly, it's an interactive resource, showcasing offers and products from HEE to fulfil a chosen solution.
Click on the HEE Star below to take a look.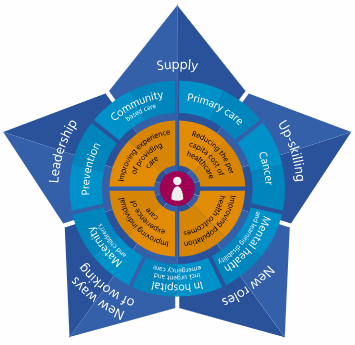 Hear how senior leaders within health and social care have used the HEE Star to aid workforce transformation within their organisations and systems in HEE Star TV. New episodes will be added monthly.
If you're interested in finding out more about the national workforce transformation programme and how the HEE Star can help you, take a look at Workforce Transformation or get in touch with us at transformation@hee.nhs.uk.