Newly Qualified Pharmacist pathway
The HEE Newly Qualified Pharmacist pathway aims to link the initial education and training reforms to a continuum of development into post-registration. The pathway is intended to help pharmacists make the transition to more independent learning and acts as a stepping-stone towards enhanced and advanced practice.
Register your interest for future pathway intakes here
Step on to the pathway

The goal is to establish lifelong learning along the pharmacy education and career continuum. 
This optional pathway is designed for learners across all sectors of pharmacy, to help them meet their development needs as they enter newly qualified practice. 
Core elements
Working with partners and stakeholders, we have identified four core elements that will contribute to developing newly qualified pharmacist' learning and growth:
Access to the RPS e-Portfolio: Developed to support learners assess their learning needs, develop an action plan, and reflect upon their experiences. 
Curriculum: The RPS Post-registration Foundation Pharmacist Curriculum is designed to support pharmacists grow from meeting the initial standards of education and training through to being confident practitioners who can provide increasingly complex care.
Learning resources: Curated resources have been mapped against the new curriculum domains. This virtual library will support the professional development of newly qualified pharmacists, based on their individual learning needs, and can complement resources available locally. The learning resources library is available online.
Access to supervision: We will support access to supervision for all pharmacists on this pathway.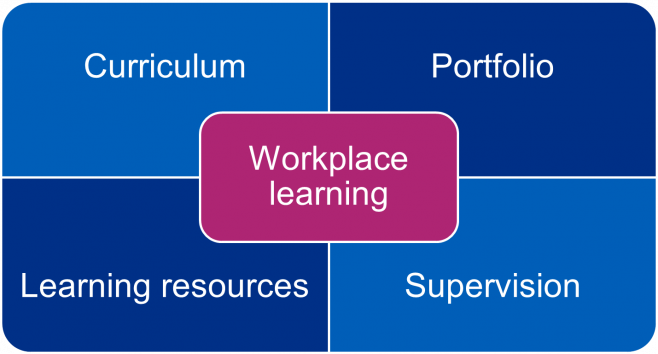 Video resources
We have produced three videos which explain the core elements of the Newly Qualified Pharmacist pathway. Click on the links below to find out more: 
Pathway delivery
This pathway is learner-led has been designed to integrate with work commitments and complement existing workplace and postgraduate learning. It is designed to provide a consistent approach to training across service providers and across organisations.
There will be no mandated assessments or time out of practice. Structured learning events (SLEs) will take place in the workplace, enabling your educational supervisor greater flexibility and responsibility over assessing your progress against the RPS Post-registration Foundation Pharmacist Curriculum learning outcomes
Registration
Registration for the Newly Qualified Pharmacist Pathway 2021/22 is now closed.
Benefits
The pathway will benefit you and your employer by augmenting and enhancing existing learning programmes. It will:
Offer the opportunity to assess your own progress against the RPS Post-registration Foundation Pharmacist Curriculum learning outcomes
Provide access to a funded e-Portfolio for professional development: helping you to assess your learning needs, develop an action plan and reflect upon your experiences over time
Provide access to a virtual library to help you develop your professional skills: resources are mapped against the new curriculum domains and will support your professional development based on your individual learning needs
Provide access to educational supervisor training/support for those receiving educational supervision through their workplace
Foster a culture of life-long learning and career-long professionalism by utilising experiences in the workplace
Utilise learning in the workplace - no additional study time over and above the learning programme you are already following (eg CPPE programme, diploma or in-house learning), using validated supervised learning event tools to receive feedback and improve performance
Frequently Asked Questions
You can access further details on the CPPE Newly qualified pharmacist programme here
Find out more here