Workforce strategy
With over 1.3 million staff performing over 300 different types of jobs across more than a 1,000 different employers, the NHS needs a robust workforce planning process to ensure that we have staff in the right numbers, with the right skills and the right values and behaviours to deliver high-quality care.
---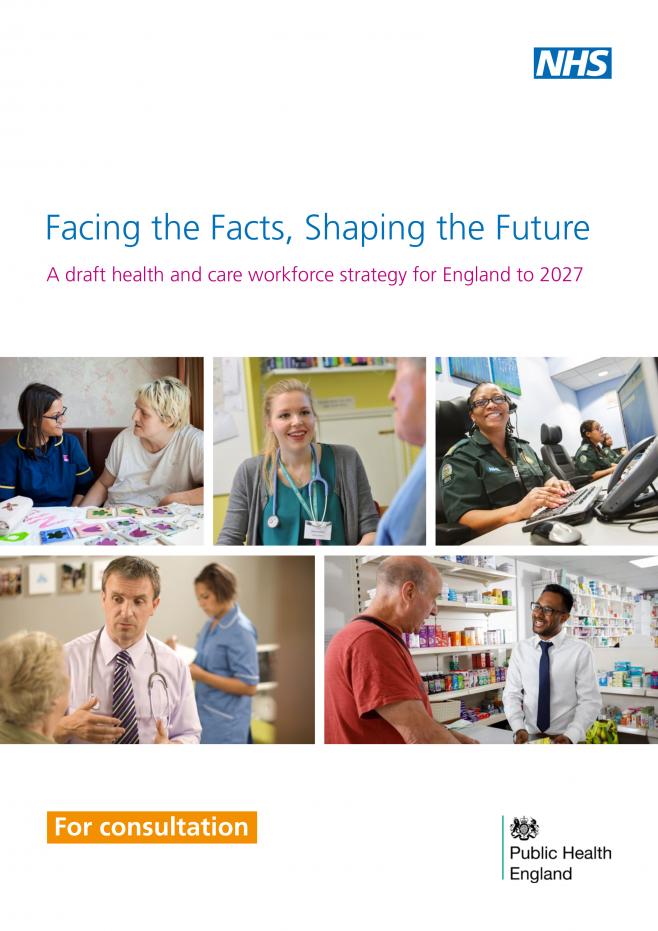 Part of our core role is to provide system-wide leadership and oversight of the workforce's education and training; we will work to ensure that healthcare staff are recruited in the right numbers and with the right values and behaviours to support the delivery of excellent healthcare and to continue to drive improvement.  We are also a partner in delivering the NHS Five Year Forward View and are supporting the government to deliver on its priority areas, including mental health.
We acknowledge that the NHS and the wider health and care system faces many immediate and significant workforce challenges.
Our NHS Workforce Report Facing the Facts, Shaping the Future – a draft health and care workforce strategy for England to 2027  published in September 2017 describes the nature and scale of these challenges and sets out proposals for the management of workforce issues at both local and national level.
Professor Ian Cumming OBE, Chief Executive, Health Education England said:
This is our first opportunity for a quarter of a century to ensure we have a comprehensive systemwide understanding of our workforce needs for the future; be that next year, five years away, or a decade away. This document outlines five years of action, taking on challenges as they arose, and finding solutions, but the future needs more than fixing as we go along. Agreeing what we need is the first step to planning the capacity and capability measures to deliver what we need. This document takes the first step – together we need to take the next one."
Our role in supporting effective delivery of healthcare
HEE is responsible for planning and delivering a healthcare workforce in the right numbers and with the right skills, values and behaviours to meet the current and future needs and expectations of patients.
Every year, NHS Trusts produce workforce plans to ensure that they are employing the right workforce to meet the needs of current patients. But because it takes at least three years to train a nurse—and even longer for other professionals like GPs and hospital doctors—Trusts also forecast how the needs of their patients could change in future, to inform our decisions about what the shape of the future workforce should be.
As such, every employer has a duty to ensure that they are and recruiting the right numbers of staff with the right skills and behaviours to meet the needs of their patients, and the boards of provider organisations are responsible for assuring themselves that current staffing levels are safe and appropriate.
As HEE is driven by both national priorities and local needs, this unique governance model ensures that healthcare providers, informed by clinicians and professional leaders who have day-to-day contact with their patients, can inform and shape the decisions about education, training and workforce planning, whilst taking into account the long-term constraints of the academic cycle.
Have your say on the draft workforce strategy
We want to hear your views to inform the Workforce Strategy that will be published in July 2018 to coincide with the NHS's 70th birthday.
The consultation starts 13 December 2017 and finishes at 5pm on Friday March 23, 2018.
Simply click on the website link below and complete the survey.
Simon Stevens, Chief Executive, NHS England, said:
This document frames some of the big and urgent workforce questions that can no longer be ducked. It marks the start of what needs to be an open, inclusive and comprehensive process involving staff, providers, and patients groups to develop practical solutions for the coming decade."
Lord Crisp, said:
This is a very welcome publication as we head towards the 70th anniversary of the NHS and seek to ensure that patients continue to receive safe, high quality care and support with staying healthy.  This consultation is an important opportunity to engage publicly in that debate."
Dr Andrew Howe, Director of Public Health for Harrow and Barnet Councils said:
The reality is that we cannot keep continuing the way we are. The strategy for the next five years needs to look at how we continue to deliver our services more effectively and that's what the consultation sets out to do. First and foremost, we need to get serious about prevention as well as supporting carers of patients who want to stay at home.

We know the NHS is under pressure, whether we've experienced this first-hand or are caring for a loved one. That's why it's so important that you share your views on how we can improve our health and social care services – not just for today but for generations to come."
Shane Degaris, Chief Executive at The Hillingdon Hospitals NHS Foundation Trust said:
This consultation is a much needed step in the right direction. NHS staff are the greatest strength of any hospital and it is crucial that they are well equipped for the roles they carry out. With an ever changing landscape in health and social care, hospitals will face many challenges over the coming years. It is important that NHS Trusts recruit and retain staff and provide them with opportunities and training to enhance their future skills to face these challenges."