Project Choice - Supported Internships
Contents
Promoting employment opportunities for Interns with learning difficulties/ disabilities and/ or Autism through a supported internship course

Project Choice is a specialist College providing tailored educational support, and a supported internship course for young adults aged 16-24 with learning difficulties and/or disabilities, and/ or Autism.
We partner with NHS healthcare settings, local organisations and private businesses to create supported work environments to provide real work experience for our Interns.
Our support is tailored to each Intern, based on their skills and interests.
Interns spend 1 year learning maths, English and employability skills and attend up to three, 12-week placements with a Project Choice Partner.
Keep updated
Sign up to our mailing list to keep up-to-date on new Project Choice.
Our Vision
We believe that every young person embarking on a supported internship has the potential to succeed, and we provide skilled, informed support to maximise their potential.
We partner with NHS and private businesses, train mentors and provide positive, skill enhancing work environments to give a secure, uplifting work experience for each Intern.
Our staff are dedicated to the overall welfare of the Interns and to ensuring that they develop academic, work and life skills across the duration of the course. We work closely with family members and other professionals to  benefit the Interns.
Project Choice not only contributes to the Intern and their journey to employment, but also enables local and NHS partners to enhance inclusion, diversity, and accessibility in their workforce.
Our Approach
Project Choice has been supporting Interns for over 15 years. These are our values:
Person-centred; considering the individual needs of all Project Choice stakeholders to enable our interns get the best start to their working careers.
Outcome Focused; creating positive outcomes for the interns and business partners.
Quality driven; ensuring that we maintain a high standard of support and education.
Excellence; being the best in our field and transforming societal expectations of people with additional needs.
Aims and Objectives
To empower interns and build their confidence as individuals in the workplace.
To change perceptions, raise awareness and create valuable career pathways for young people with learning difficulties and/or disabilities and/ or Autism.
To raise awareness of the value that the interns can add to the workplace.
To increase the diversity of the workforce and promote equality of opportunity.
To provide interns with a life experience and knowledge outside of their home and school.
To widen access into the NHS workforce.
Our Support 
We support young people to gain work skills through 3 stages of development to access employment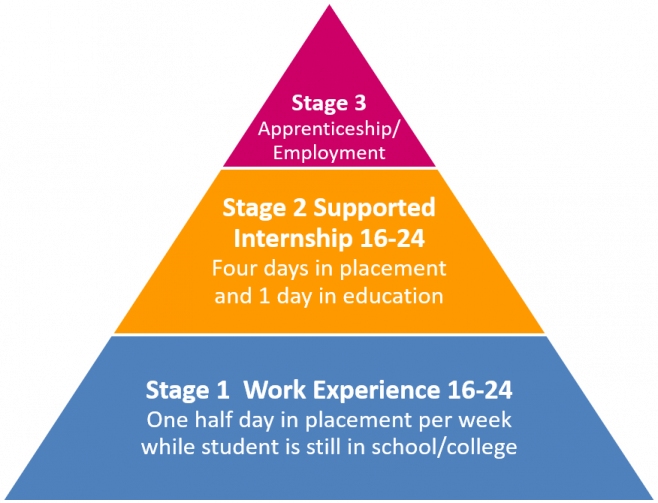 Stage 1: Work experience
Project Choice offers:
Term time placements for Learners still attending SEND schools (aged 14-18)..
A virtual work experience programme for schools to complete prior to starting or instead of face to face work experience..
Face to face work experience, consisting of coordinated placements for a half day, every week for six weeks.
Project Choice staff support for all face to face and virtual work experience coordination.
Training mentors and teaching staff.
Work experience graduation and a certificate.
To find out more about Project Choice SEND work experience programme, contact our staff.
Stage 2: Internship
Project Choice operates 5 days a week, Monday to Friday over an academic year, September to July,
Placements with Project Choice business partners are bespoke and related to each Interns skills and interests.
Throughout the year, each week Interns attend 1 full day of education (maths, English and employability lessons) and up to 4 days of professional placements.
Interns are given a 2 week full-time induction prior to starting any placements with educational learning including confidentiality, inclusion and diversity and professional expectations.
Interns attend all additional training as required by their placement partner.
Local Coordinators complete weekly/ fortnightly reviews and work with partners to develop and maintain the Intern placements.
Stage 3: Apprenticeship and Employment
The Transition support for interns leaving Project Choice and choosing to move into paid employment or apprenticeships may include:
Application support
Interview practice
Formal discussions with the employer around reasonable adjustments in the recruitment process
Support and guidance with skill scans/paperwork and documentation during apprenticeship sign up (for intern and employer)
Attending corporate inductions with intern and support with induction and training
Fortnightly* review meetings with intern/employer/training provider *can be more or less frequent as required
Pastoral Support
HR Issues (reorganisation, conduct, performance etc.)
Any ad hoc issues that may arise throughout the 5 year period after leaving Project Choice
How we are funded
The College and Internship Course are funded by the Education and Skills Funding Agency (ESFA) and host commissioning Local Authorities through individual Education, Health and Care Plans (EHCP).
We are fully self sufficient and do not rely on NHS funding.
This does mean that there are some eligibility requirements for future Interns. See more information about eligibility and the application process here
Social Media Links
HEE handles data in accordance with the General Data Protection Regulation. Please visit HEE's privacy notice for further information:
You can update your preferences or remove your details from our database at any time — there is an unsubscribe link at the bottom of every email that we send you. If you have any issues with this please contact comms@hee.nhs.uk
Please note we use an email distribution system (Pure 360) to send out our communications. By subscribing there, you will be agreeing we handle your data using this site. For more information, you can read the Pure 360 privacy notice.
By subscribing you are confirming you have read and accepted the terms of the HEE and Pure 360 privacy notice.
Return to the top of the page.