Project Choice - Supported Internships

Project Choice is a Specialist Post-16 College providing work experience as well as a supported internship programme that helps young adults between the ages of 16-24 with disabilities, learning disabilities, difficulties and/or Autism gain work experience and improve employability and independence skills. The College is NHS-based within Health Education England.
We provide internships within healthcare settings and other NHS partner organisations, creating supported environments and helping to get Interns ready for the working world.
Our support is tailored to each Intern and we match employment options to each Intern's skills.
Our Interns spend 1 year learning work skills in three placements, each placement is up to 12 weeks long.  Interns spend 4 days per week in placement and 1 day in the classroom studying employability skills as well as studying functional skills.
The programme is rolled out nationally over 19 areas and more joining in soon.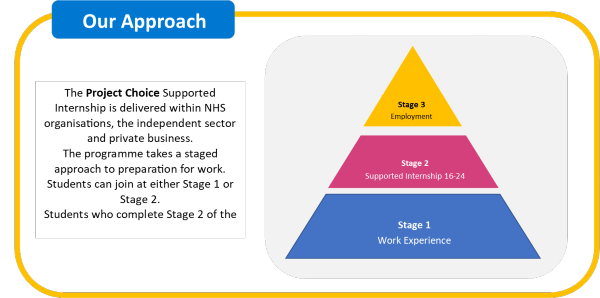 Those on the programme have the following to say
I feel like an adult. I have traveled to work in-dependently, done my job and traveled home independently - just like other workers. I'm so proud of myself, I want to keep working
Project Choice has made me have hope and also it gave me an idea of what I want to do when I leave the course
Organisations involved are just as supportive
Having a person with learning difficulties in the department has had a positive effect. It has made us much more aware of how we communicate with people and it has given a great boost to everyone in the department."

City Hospitals Sunderland NHS Foundation Trust
Our Team
Project Choice Supported Internship College address:
The Grainger Suite,

Dobson House,

Regent Centre,

Newcastle upon Tyne,

NE3 3PF
Head Teacher:
Linda Selby MBE

National College Lead - Operations

Phone: 07747 775659

Email: Linda.Selby@hee.nhs.uk 
Paula Martin-King

National College Lead – Funding & Contracts

Phone: 07904 968 539

Email: Paula.Martinking@hee.nhs.uk
Complaints Procedure
Our Complaints procedure can be found here - Project Choice Complaints procedure V2Nov2020