SPIN - New to Practice Fellowships
Salaried Portfolio Innovation Scheme (SPIN) – New to Practice Fellowships
Opportunities for newly qualified and early career GPs and General Practice Nurses

In the London Region, Health Education England and NHS England and NHS Improvement, have taken a joint approach on Salaried Portfolio Innovation Scheme (SPIN) and New to Practice Fellowships.  Under the umbrella of SPIN- New to Practice Fellowship programmes, they are working together, to maximise the impact of fellowship opportunities for all newly qualified and early career GPs and general practice nurses across the primary care workforce.
The scheme was first introduced in 2017-18 in response to the workforce needs of the system, population health need and to sustain a permanent general practice workforce. The NHS long Term Plan emphasises the opportunity to tailor roles to benefit both 'the individual and the needs of the local primary care system'. The SPIN- New to Practice Fellowships scheme continues to flourish and grow, having hosted over circa 400 fellows and is available to all newly qualified GPs and general practice nurses, within their first 12 months, post-qualification. (View NHSEI General Practice fellowships guidance).
Full Link: https://www.england.nhs.uk/publication/general-practice-fellowships-for-gps-and-nurses-new-to-practice-programme-operational-guidance/
What are SPIN- New to Practice Fellowships?
SPIN- New to Practice Fellowships are open to all newly qualified and early-career salaried GPs and newly qualified general practice nurses (GPNs) within the first 12 months of qualifying, offering opportunities to develop both generalist and specialist skills in an attractive and supportive employment package. The scheme addresses the lack of support for newly qualified GPs and GPNs, whilst meeting the desire for a portfolio career approach, providing a variety of experiences. These fellowships enable newly qualified GPs and GPNs to develop a broad range of skills to match their special interests and also combine a permanent contract in general practice with a portfolio option outside of the practice where specialist skills can be developed working with a host portfolio provider. They therefore support the transition into permanent workforce in primary care together with building the skills for a positive career trajectory.
How do they work?
Early career GPs and general practice nurses (GPNs) are recruited through engagement with their local SPIN Programme Director or via their local Training Hub networks to work in general practice for between 4 to 7 sessions per week and are employed by the practice on a permanent contract. In addition, GPs and GPNs engage in two sessions in an alternative setting, which could be in many different areas e.g., primary care-based leadership opportunities, system-wide development activities, Acute, Mental Health and Community Trust specialisms or medical education fellowships, with scope to develop an innovative fellowship portfolio experience. GPs and GPNs on the scheme also have access to dedicated monthly peer support sessions, facilitated by an experienced Programme Director.
The fellowship model
The SPIN- New to Practice fellowships model ensures that in the crucial early stages of their career, newly qualified GPs and GPNs feel valued, remunerated, part of a community, have a manageable workload and work life balance, and career and educational opportunities to further develop professionally and clinically. The employment model consists of: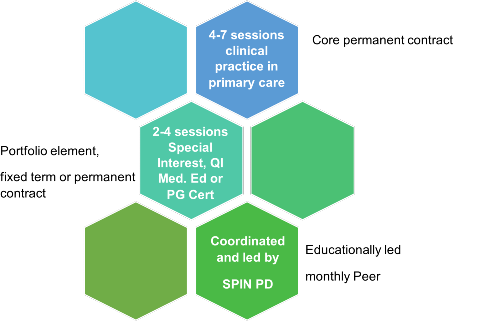 8 out of 10 wider stakeholders surveyed said that the fellowships had positive impacts for the portfolio host, general practice or local area. These included, recruitment, retention and having more capacity to run services or undertake local priority projects.
How the scheme benefits fellows, employers, and our patients
There are many benefits for those undertaking a fellowship, as well as for practices and employers hosting GP and general practice nurse (GPN) fellows, and most importantly the added value that the fellowship experience brings, in terms of how this translates to better service delivery for our patients in primary care.

It really is a win-win situation, as through our newly qualified GPs and GPNs building improved system-wide knowledge and understanding, communication networks, access to peer support and with exposure to new developmental experiences via portfolio working during their early career, this in turn contributes to their long-term career development, improved systems working and Population Health, as well as aiding retention of the primary care workforce.
View our case stories from fellows and employers who have taken part in the scheme
Dr Edobor – SPIN New to Practice Fellowships in NEL
Dr Adjei – SPIN- New to Practice Fellowships in NEL
UCL Medical School's story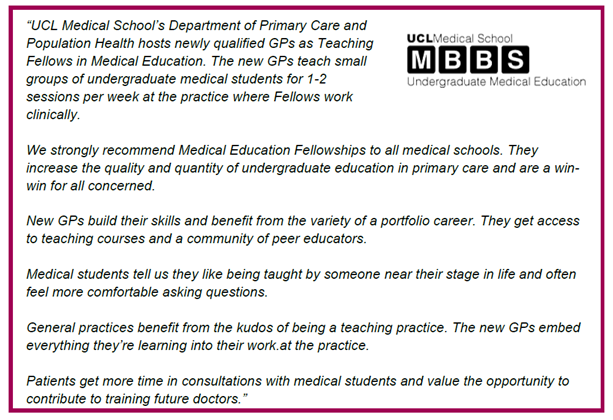 Rasheeda's story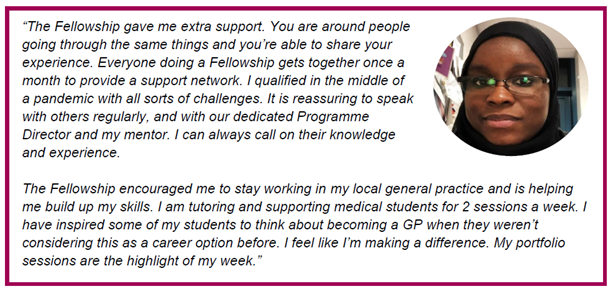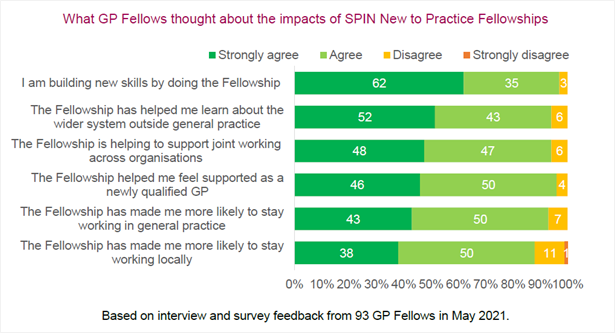 Benefits
Portfolio career meets expectations of newly qualified GP or general practice nurse and promotes career progression.
Practices and host portfolio organisations benefit from increased capacity and supply of a skilled workforce with specialist knowledge.
Increases retention of newly qualified GPs and GPNs in the Primary Care workforce
Sustainable cross-sector model, encouraging integrated system working and collaboration between partners.
Patients benefit from their GP and GPNs' specialist knowledge and good working relationships and knowledge of other healthcare partners.
Is there any support funding available?
NHSE-I provide reimbursement for 1 CPD session, based on the individual fellows' actual full-time salary (pro-rata).

HEE also currently funds the PG Cert in Healthcare Practice programme and provides a bursary to fellows to provide financial support over the 12-month duration. The course is taught during the academic year, with a limited number of spaces offered across London.
Want to find out more?
Contact our HEE London Primary Care Team, who can help direct your enquiry to your local Programme Director or Training Hub.

They will be able to provide you with more information on the scheme and even set-up a meeting if you are looking to host fellows and wanted to find out where to start and how you can do this.
For enquiries: PrimaryCare.London@hee.nhs.uk
Associated links: