AHP Faculties
The AHP Faculty model provides the infrastructure to facilitate system-wide working between health and care providers and HEIs.
There are many benefits of working in this way which include; ensuring AHP students have sufficient access to rich learning environments and creating sustainable and innovative recruitment and retention strategies to ensure our pipeline of AHP professionals continues to thrive and grow.
The NHS Long Term Plan emphasised the need ensure enough staff are available to meet demand, by:
increasing the number of people joining the AHP workforce
reducing attrition in education and training
improving retention of our existing workforce
increased international recruitment.
To help achieve the objectives HEE have invested in 24 AHP faculty 'test beds' across England, aligned to an STP/ICS footprint (or equivalent).
The COVID-19 pandemic has meant many student placements have ceased, leaving students behind on their clinical placement hours, delaying course progression which may ultimately disrupt and reduce the pipeline of future AHP practitioners.
It has never been so important that systems work well together to develop their recovery plans alongside the need for growth of our AHP numbers.  The majority of AHP Faculty testbeds that were developed earlier this year have concluded that this infrastructure provides a valuable vehicle in which to house these conversations and crucial work.  AHP Faculties in many areas are becoming business as usual and there is also the potential for the development of new AHP Faculties where they did not previously exist.  There is a need for a robust communication plan around this work to showcase existing good practice and inspire others to adopt this model in their own systems.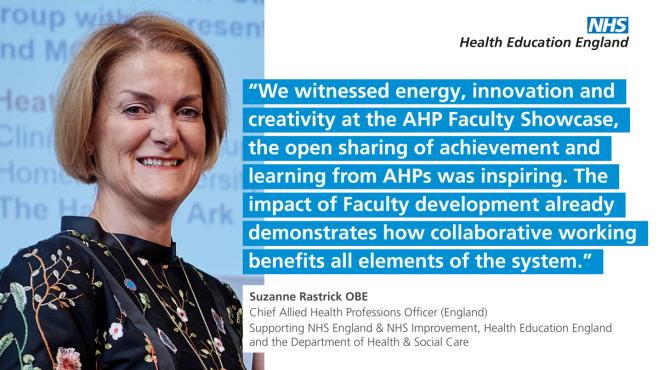 This AHP Faculty Virtual Showcase will provide an update on the establishment and ongoing work of the AHP Faculty testbeds. It will be an informal event to showcase and discuss ongoing activity for those interested.  
We are inviting you to learn, share and engage with each other. Like everything in the wake of COVID-19, the nature of the meeting we had planned has shifted slightly, we are adapting (like much of our sector has). We are taking this time to focus the on the impact that AHP Faculty testbeds have had so far; their introduction was to facilitate system-wide collaboration between health and care providers and education providers, but how has this played out?
>> Watch the Showcase recording here 
>> View the Showcase slides here 
Agenda
10:00    Introduction and welcome by Suzanne Rastrick
11:10    AHP Faculty test bed overview by Paula Breeze, National AHP Clinical Fellow
11:20    Testbed showcase
Presentation 1: Expanding clinical placement capacity. Helen Lycett, North West London AHP Faculty testbed
Presentation 2: Mental health career development and pathways. Susanna Preedy, Hampshire and Isle of Wight AHP Faculty testbed
11:40   Refreshment break (10 mins)
11:50   Evaluation findings. Irene Carson, Karen Hayden and Jacx Mallander, Anglia Ruskin University, RETHINK and Economics by Design 11:50 – 12:20
12:20   Testbed showcase
Presentation 3: Title. Clare Pheasant, Coventry and Warwickshire Health Care Partnership AHP Faculty testbed
Presentation 5: Work experience, a shared platform. Vicki Lightfoot, Lincolnshire AHP Faculty testbed
Presentation 6: Apprenticeships. Jane Melton, Gloucestershire AHP Faculty testbed
12:50    Recommendations and next steps by Paula Breeze
12:55    Discussion (20 mins)
13:15    Summary and close by Beverley Harden, National Health Professions Lead
Join us for a deep dive into our Allied Health Professions.
Over September we will be holding a series of webinars, each focusing on three professions. We will take a look at the current, national challenges for each profession, capture the perspective of the professional bodies and look at profession-specific workforce data. 
This is a unique opportunity for a 360 look at each profession, that will: 
 - provide up-to-date AHP information and data on each profession
 - raise awareness, promote value and optimise AHP skill utilisation within the system
All are welcome to join one or more of the webinars, click the links to join:  
AHP Workforce webinar 1: Occupational Therapy, Podiatry and Art Therapy​, 10 September, 9.30 - 10.45 
Webinar slides to view 
Webinar recording 
Additional resources:
 - AHP Apprenticeship routes AA Torbay
 - Supporting AHP roles South Devon College Apprenticeship slides
AHP Workforce webinar 2: Physiotherapy, Operating Department Practitioners and Orthoptists, Friday 18 September, 9am - 10.15am
Webinar slides to view
Webinar recording 
AHP Workforce webinar 3: Dietetics, Drama Therapy and Paramedics, Friday 25 September, 11am - 12.15pm
Webinar slides to view
Webinar recording
If you're having trouble accessing these webinars, please contact Jane.Gardner-Florence@hee.nhs.uk 
AHP Workforce webinar 3: Dietetics, Drama Therapy and Paramedics - click link to join
Friday 25 September, 11am - 12.15pm
AHP Workforce webinar 4: Speech and Language Therapy, Music Therapy and Prosthetists and Orthotists - click link to join
Tuesday 29 September, 3pm - 4.15pm
AHP Workforce webinar 5: Diagnostic Radiography, Therapeutic Radiography and Osteopaths - click link to join
Wednesday 30 September, 10am - 11.15am