Maternity Support Workers
The HEE Maternity programme has established a project to develop the role of the Maternity Support Worker (MSW).
Better Births, improving outcomes of maternity services in England (2016) highlights the need for multi-professional working, breaking down barriers between midwives, obstetricians and other health professionals to deliver world-class safe, personalised care for women and their babies.
Maternity support workers (MSWs) are an integral part of the maternity workforce and play an important role in supporting midwives and the wider maternity teams, mothers and their babies through pregnancy, labour and during the postnatal period. However, within the current workforce, the roles, responsibilities and job titles of MSWs in England vary widely.
On 27 March 2018, the Secretary of State for Health and Social Care announced a package of measures aimed at professionalising the maternity support worker role.
HEE has led this important piece of work and developed the Maternity Support Worker Competency, Education and Career Development Framework working closely with a wide range of partners and stakeholders. The framework draws from and builds upon excellent examples of good practice from across the system and can be accessed from this page. 
Following a successful pilot of the framework across organisations in North West London, HEE secured funding to support plans for full implementation across all maternity units in England. The 2020/21 funding was available to Local Maternity Systems (LMSs) to support desktop review and mapping of maternity support staff against the framework.
All maternity units were asked to review and map their MSW workforce against the education and competency requirements at all levels described in the framework. The results of this mapping exercise can be viewed under the resources tab below.
Our journey so far: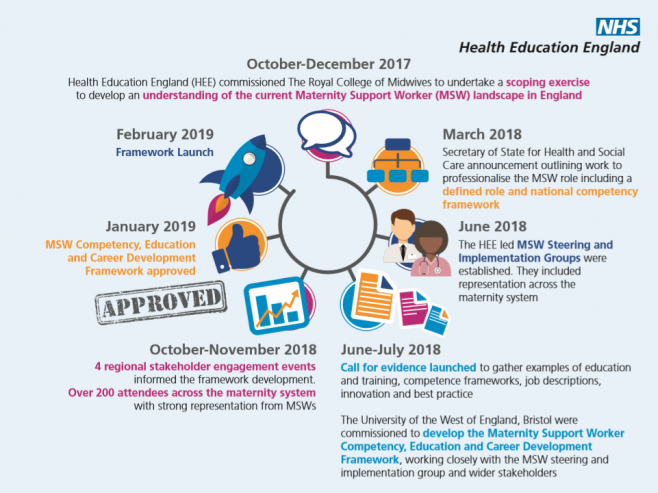 Follow our work using #MSWrealisingpotential  
Health Education England launched the Maternity Support Worker (MSW) Competency, Education and Career Development Framework in 2019 as part of a project to develop the role of the Maternity Support Worker.
The second phase of the project, led by the University of the West of England aimed to scope and review existing education provision, assessing fitness for purpose. A key point identified was to develop a voluntary level 3 curriculum to ensure consistent and quality education across the MSW workforce.
This new voluntary curriculum is intended to be used to deliver current optional Maternity Support Worker Units within the SHCSW Apprenticeship Standard, core units should still be studied and the care certificate completed.
The curriculum outlines a number of recommendations and outlines:
- Domains of support worker practice in maternity settings
- Supervision and Assessment of Competence
- Curriculum requirements which takes into consideration the care certificate, code of conduct, prior learning and more
A gap analysis also demonstrates the full alignment of the voluntary level 3 curriculum and local induction content to the MSW competency framework and by way of example, a knowledge, skills and behaviours list has also been provided to assist in the understanding of how competencies could be evidenced.
Access the full Maternity Support Worker Level 3 Curriculum. 
Hello, my name is Alice Battey and I am in my second year studying midwifery at the University of Worcester. I began my studies in September 2019, just after completing my A-levels.
From a young age I have always aspired to be a midwife and knew that there was no other career for me. Being lucky enough to gain experience within maternity before applying to university reinforced my aspiration. Empowering and advocating for women through one of the most life changing times in their life is more than a privilege and I feel honoured every day that I get to be a part of it.
First year learning
The first year of the course focuses on normality in pregnancy and childbirth. At the University of Worcester, enquiry-based learning (EBL) is used to enable us as students to lead and direct our own learning. This allows us to be creative with our findings and encourages us to explore the enquiry through questioning, research and collaboration. We worked in small groups to share our different ideas and perspectives on the topic chosen before coming together to present our findings. I am pleased to hear that enquiry-based learning is still in the curriculum for year two.
First year – placements
For my year one placement, I was supported and supervised during a 6-week community placement by the community midwives. During this placement I attended antenatal clinics and postnatal visits. I did not see a home birth whilst out on community however, a lot of the girls in my cohort did. I absolutely loved my community placement; I had excellent supervisors who would always explain to me what they were doing, why they were doing it and signposted to me further resources to look at. This made my experience of the community placement enjoyable and further highlighted exactly why I wanted to be a midwife.
At the beginning of March 2020, I went onto a delivery suite for the first time.  Initially, I felt nervous and apprehensive; all I had ever seen of a delivery suite was on the television, but I had no reason to be nervous; I was made to feel welcome and as if I belonged on the unit. Overall, I spent three weeks on the delivery suite; witnessing and facilitating birth whilst being in awe of  the strength women show during labour. During every birth I witnessed, I just remember feeling so emotional but also honoured that I could be a part of that mothers journey. I was nervous about how I would manage a night shift, but after listening, discussing, and using some of the 'top tips' from more senior midwifery students I was fine.
Coronavirus
When the Coronavirus pandemic emerged, all first-year students were deferred from placement to support clinical needs and reduce the spread of the virus. This was very upsetting on many levels but particularly because I was just starting to find my feet on delivery suite. On my last shift, I had my first "hands on" experience with a birth. However, I understood the reasons and the university did all they could to reassure and support us.
All the remaining teaching sessions were provided via online. This took some adjusting to but the lecturers were incredibly supportive. Despite a lack of face to face teaching, the teaching team still strived to make our sessions fun and interactive. The lectures helped give structure to my everyday life but also gave me something to focus on, instead of the uncertain world around us.
My cohort received the news that our next placement block on delivery suite which was due to take place at the end of the academic year, had also been deferred due to the pandemic. I was concerned about how this would affect our midwifery degree. However, the teaching team supported us weekly with online 'keeping in touch' sessions enabling us to discuss practice, general concerns or ask questions. The support we received from the university throughout lockdown was incredible, I never felt as if I was on my own or had no one to talk to.
Becoming an MSW
As a result of placement being deferred, I decided to start working as a maternity support worker (MSW) at my local trust. This is one of the best decisions I have ever made; the experience I have gained from working as an MSW throughout my summer has been invaluable to me on my midwifery degree. It has enabled me to see maternity services from a completely different perspective.
The strength of pregnant women is beyond amazing, particularly as for the safety of the staff and those receiving care, there were numerous changes with scans, birthing partners, and visitors.  Just having a conversation or holding the hands of women to show reassurance, can make such a big difference in preventing loneliness. Moving forward, I plan to still work a few occasional shifts as a support worker, however my studies have taken over as a priority.
Moving forward
Lots of changes are taking place in midwifery education at my university. Following the Nursing and Midwifery Council (NMC) education standards release, the midwifery curriculum has been revised and revalidated. In addition, the university is also proposing a short new programme for the transition of qualified nurses into midwifery from March 2021. As students, we have been given the opportunity to be involved in the consultation phase of this exciting new programme, sharing our views and opinions. This new course is going to be excellent for midwifery at Worcester; as student midwives we will be able to learn from the background of qualified nurses but also share our midwifery knowledge with them.
Life as a student midwife at the University of Worcester is exactly what I hoped it would be. The midwifery teaching team are so welcoming, friendly and would do anything to help us as students. The support system between the different year groups is also extremely helpful. The preceding cohorts always offer their help, whether that be answering a question I may have or sharing their revision tips. The midwifery society run by third year students is an excellent way for us as all to get to know each other across cohorts and occasionally let our hair down.
I am excited about the future; building on my foundation knowledge of midwifery as we learn more about the complexities of care, obstetric emergencies and developing my skills further.
Maternity Support Workers (MSWs) are an integral part of the Maternity Workforce and play an important role in supporting midwives and the wider maternity teams, as well as mothers and their babies throughout their maternity journey.
The Foundation Degree Assistant Practitioner Apprenticeship in Maternity aims to develop compassionate, caring, knowledgeable and skilled MSWs, who are able to practise within interdisciplinary teams. The course focuses on excellence, using a practice-led, knowledge-applied educational framework to enhance employability to meet the needs of the evolving health and social care environment. It reflects the diverse nature of both our apprentices and the service users they support.
The role promotes a high standard of MSW training and development and aims to bridge the well-documented workforce gap in Maternity. It provides MSWs with access to standardised learning and development opportunities, while continuing to work in the clinical area. It offers an ideal opportunity to develop your organisation's workforce and the knowledge and skills of your maternity team.
The apprenticeship supports both the academic and personal development of the learner, and the course team are dedicated to developing and delivering education that stretches, challenges and supports learners to achieve their individual goals. We aim to empower our learners to reach their maximum potential and provide them with the tools they need to make a positive contribution to their patients, colleagues and the wider multi-disciplinary team.
Work-based learning is at the heart of the apprenticeship. This provides learners with the opportunity to apply their newly acquired knowledge to clinical practice. Collaboration between the University, learners and employer partners is essential to the learners' progression within the course.
During the two year course, learners will complete pathway-specific modules as well as the core modules. The specific Maternity modules in the Foundation Degree include; Supporting Normal Birth, Supporting the Transition to Parenting, and Maternity Skills.
After the successful completion of year one, learners achieve a Certificate in Higher Education. After the completion of year two, they will graduate with a Foundation Degree in Health and Social Care (Maternity). Apprentices then undertake an End Point Assessment (EPA) to complete their apprenticeship. The EPA involves a reflective journal, an observation in practice or reflective statement and question and answer session, an exam and a final interview with an independent assessor.
On completion of this apprenticeship, MSWs are equipped with higher level knowledge, skills and behaviours so that they can make an enhanced contribution to their practice area. Their increased skills can lead to a range of opportunities. Previous MSWs have gone on to work in specialist practice and homebirth teams.
Case Study: Charlotte Beresford
Charlotte is a MSW working at University Hospitals Birmingham, and has recently completed her Foundation Degree in Health and Social Care (Maternity) at Birmingham City University.
What key skills and knowledge have you gained from your course?
I now have skills and knowledge required to assist the multidisciplinary team in a maternity emergency. I can confidently take blood and maternal observations and help to do baby observations too. Furthermore, I now understand the rationale and underpinning anatomy and physiology for the actions that we take.
What challenges have you faced on your course, and what support has your faculty provided you during your apprenticeship?
I struggled with one of my modules but I had so much support from my tutors at the University. They put on extra sessions and saw me face to face, which was really helpful and enabled me to complete it successfully.
How have your teachers enabled you to succeed?
They are always there to support you and very responsive to emails and questions that you may have. They are encouraging and nothing is too much hassle for them.
What are you most proud of from your time studying for your career? What do you feel you have accomplished so far?
I'm really proud that I have passed my foundation degree and the apprenticeship. I believe my time management skills have improved as a result of doing the programme.
In what way do you think you have changed since becoming an apprentice at Birmingham City University?
I think I have become more conscientious since doing the apprenticeship and I feel I have developed professionally during my time at BCU.
How do you think the course and the School have helped you to flourish and boost your career prospects?
It has opened up gateways for specialist roles or further study in the future. It has provided me with more opportunities.
What do you hope to do once you leave university and how has, or will your course help or you to achieve this?
I am confident that the course will help and support me to go on to study a Midwifery degree.
The knowledge and skills that I have acquired during the apprenticeship will definitely support me with achieving a midwifery qualification.
What is your favourite part of being a Maternity Support Worker?
I am passionate about breastfeeding and helping mums and babies to get off to a good start. I always give them as much information as possible to educate them and to enable them to make informed choices. I also think it is important to involve the partner during the breastfeeding journey as well. I aim to make them feel included, which can enhance bonding and attachment and support the transition to parenting. There are so many ways that partners can get involved with breastfeeding from assisting with hand expressing, feeding baby syringe harvested colostrum at birth or feeding the baby expressed breast milk. 
Find out more about the role of Maternity Support Workers or get in touch with us!
Acting Course Leader - Beth Flint (beth.flint@bcu.ac.uk) 
Maternity Pathway Leader - Charlotte Grainger (charlotte.grainger@bcu.ac.uk)
The HEE Maternity Programme held a webinar to update maternity systems on the Maternity Support Worker project, including sharing the results of workforce mapping against the Maternity Support Worker Competency, Education and Career Development Framework.
You can watch a recording of the webinar via this link.
Below are some answers to questions raised at the webinar. If you have any other questions, please contact us at maternityprogramme@hee.nhs.uk
You can also contact the Talent for Care team with any queries regarding apprenticeships at talentforcare@hee.nhs.uk
Will HEE or individual Trusts source the local apprenticeships?
Apprenticeships are employer-led and the employer takes responsibility for sourcing an apprenticeship programme provider.  
The HEE Talent for Care apprenticeship team have designed resources to support employers with this and all aspects of the apprenticeship journey which you can find here: https://haso.skillsforhealth.org.uk/toolkit/
The Talent for Care team are also presently procuring national apprenticeship education provision. This will ensure the development of a strong, quality-assured provider market across all regions to deliver MSW apprenticeships.
From the competencies in the MSW framework, is it possible to describe or list tasks that would be considered 'basic care' tasks that the Level 2 Maternity Housekeeper can perform?
The framework describes a level of practice in terms of competencies for each role. Specific tasks or skills are not listed in the framework. However, Level 2 Maternity Housekeepers (band 2) can undertake personal care – not clinical care – in alignment with Agenda for Change, for example. You should ensure that any role that warrants clinical skill should be at least a Level 3 MSW.
The competencies are grouped together in four domains: supporting women and families; public health – prevention and health promotion; personal and clinical skills; and creating safe environments. For each competency there are several indicators described at each level to guide support workers and those assessing their competence. Job descriptions should be aligned to the relevant indicators for each competency.
Has this been mapped against equality & diversity data?
Local Maternity Systems (LMS) were not asked to provide diversity and inclusion data alongside their framework mapping results.
If you require further information about the mapping of MSWs to the framework within your Trust, please contact your local lead.
I joined the NHS 17 years ago and did not complete the Care Certificate but have done NVQ Levels 2 & 3, advanced apprenticeship in maternity and paediatrics: would I still need to complete the Care Certificate?
It will depend on when the qualifications were undertaken. The current Senior Healthcare Support Worker apprenticeship duplicates much of the Care Certificate but not all of it. Prior learning can be cross-referenced and contribute towards completion of the Care Certificate. You should liaise with your learning and development team to discuss any prior qualifications you may have.
How did you provide the time for the MSWs and provide funding for backfilling?
There is no funding available for backfill. Employers should allow 20% of individuals' time to complete the educational element of their apprenticeship. This allowance can be split over the course of the week in line with service needs.
Are there any educational providers in the North of England?
The apprenticeship education provision procurement currently being undertaken by the Talent for Care team will invite providers to bid on either national or regional basis.
If we have already sourced an apprenticeship course, can we start to implement MSWs onto that course?
If you already have an existing agreement with a training provider that you value and trust, you are welcome to use them. There is nothing preventing Trusts from using existing providers.
What banding is a Level 4 MSW?
In most organisations the levels described in the MSW framework correspond to the same bands. Any MSW job descriptions created will need to go through the Agenda for Change process to determine the banding of the job. Example job descriptions are available on our website.
Return to the top of the page.