Listening to doctors in training
As part of our work to enhance junior doctors' working lives, we undertook a listening exercise to gather together the themes affecting junior doctors' morale and to understand their experiences of the best training environments. The report highlights the work taking place across the NHS to address these themes, and suggests ways for health organisations to move forward. In so doing, it seeks to move the conversation forwards towards tangible changes for doctors in training.
---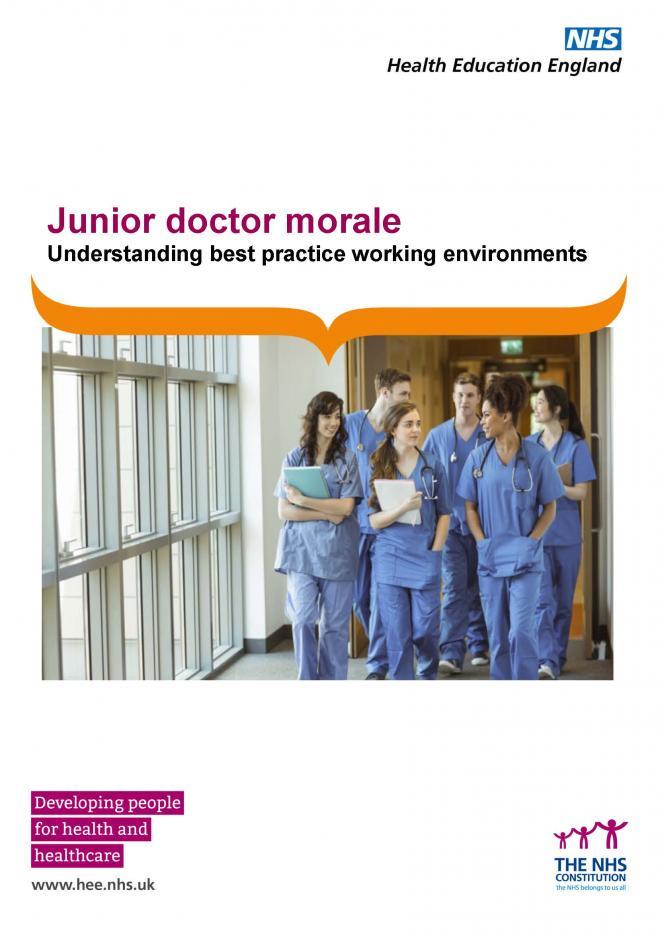 The resulting report, 'Junior doctor morale: understanding best practice working environments', available below, encapsulates what we have heard about the issues that are contributing to the current low junior doctor morale:
"I am not supported"
"I do not feel valued"
"I have no autonomy".
We heard that around the country, some excellent training environments already offer positive role models and developmental work experience, however there is a wide range in quality. Many doctors in training reported that they felt disconnected from their employers, and that this extended beyond trusts; to the regional and national organisations impacting on their working conditions.
We are dedicated to improving the working lives of doctors in training and will continue our work to value, support and empower them - and the report suggests a number of ways this can be taken forward. For example, we are working with NHS Improvement, NHS Providers and many individuals to identify best practice that can used towards improvements at trust level. An example case study of excellent training environments accompanies the report and is available to view below - case studies such as these can enable trusts to develop their own action plans to improve junior doctors' morale.
The report accompanies a progress report on our work with partners on initiatives to enhance junior doctors' working lives, including new legal protection for juniors raising patient safety concerns and the impact this may have on their training and looking at how we can enable joint applications from couples. Further updates on this work will be made available on our website.
The report has been endorsed by senior leaders from across the system:
"This report encapsulates what we have heard about the issues that are contributing to the current low junior doctor morale. It also importantly moves the conversation forward, highlighting the work across the NHS in addressing these problems, and suggesting ways for health organisations to move forward.

HEE is dedicated to improving the working lives of junior doctors and will continue our work to value, support and empower them.

We are collaborating with NHS Improvement, NHS Providers and many individuals to identify best practice that can recognised and shared to expedite improvements at trust-level."

Professor Wendy Reid, Director of Education and Quality and Medical Director, Health Education England
"This report articulates the concerns of junior doctors concisely and clearly. Initial efforts demonstrate commitment and collaboration to addressing identified issues.  We are committed to continue helping facilitate and sustain these efforts.

Furthermore, we must not overlook the morale of the wider workforce. It must be remembered that improving morale of the workforce is not only the right thing to do but it is also paramount for improving outcomes for our patients, as morale of the workforce and quality of care delivered are inextricably linked."

Sir Bruce Keogh, Medical Director, NHS England
 "This is valuable work which recognises the scale of the challenge we face in ensuring medical training recruits and retains junior doctors successfully, provides them with the quality educational experience they need, and tries to address their individual needs and circumstances.

Little identified issues in this document will be surprising to many trainees, and much echoes what we have argued directly; however it is helpful to confront these difficult truths head-on and set out clearly the simple steps that good training environments already follow.

We continue to work with the range of organisations referenced in this document to try to make a reality of this good practice across all individual workplaces, building upon the positive steps already taken at a national level."

Jeeves Wijesuriya, BMA Junior, Doctors' Committee Chair
"We welcome this report which sets out the work under way to improve junior doctors' working lives, and the commitment from national bodies to support trusts to improve morale among trainees. We now need to see this commitment in action.

It is a testament to the hard work and commitment of junior doctors that 96 per cent of them still value their relationship with patients highly despite the pressures they face.

NHS Providers is committed to sharing good practice across trusts on the practical steps which can be taken to improve the working lives and opportunities for junior doctors."

Dame Gill Morgan, Chair of NHS Providers
"Given the tumultuous events of 2015 and 2016, it is absolutely right that we take a step back at this time to actively listen to the views, aspirations and concerns of our medical workforce.  This report is very much welcomed by NHS Employers and I am pleased that we can demonstrate how, as a system, we are making progress in starting to address the concerns it highlights.

While elements of the report make for uncomfortable reading, it is also encouraging to see that doctors themselves have been able to identify what a good learning and working environment looks and feels like, can highlight where good practice exists and point to ways in which their concerns are being resolved.

We support approaches which highlight good practice in this way and will fully support this project as it moves forward, encouraging employers to learn from others and share their own success."

Daniel Mortimer, Chief Executive Officer, NHS Employers
"NHS Improvement welcomes this report as it identifies areas where junior doctors feel they need the most support but also provides us with a better understanding of where good practice exists.  

Junior doctors play a vital role in delivering care to patients and part of our work now is to work alongside them, their trusts and other health organisations, to keep this conversation going and help facilitate the changes they want to see."

Dr Kathy McLean, Medical Director of NHS Improvement
"NACT UK strongly endorses this HEE document and believe it to be both timely and an important statement concerning our current junior doctor workforce.

In particular, we would like to emphasize the key role of local training teams including Directors of Medical Education (DMEs), Specialty/College tutors who work closely with their educational and clinical supervisors.

There must also be strong executive support from within the organisation for trainers and trainees. An important step forward for many Trusts would be to include DME or Director of Education presence on the Board plus allowing local PGMDE to have control over the education and training budget."

Dr Alison Cooper, Chair of NACT
We recognise that in the current climate, many junior doctors feel undervalued and morale can be low.
Read More